How much screen time is healthy?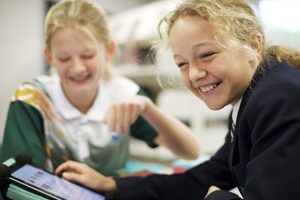 A recent AO.com survey pointed to children spending on average around 17 hours a week in front of a screen - almost double the 8.8 weekly hours spent playing outside.
In 2015 Cambridge University researchers recorded the activities of more than 800 14 year olds and analysed their GCSE results at 16. Those spending an extra hour a day on screens (TV, computer, games console, phone) saw a fall in GCSE results equivalent to two grades overall.
In a lecture, 'Managing Screen Time and Screen Dependency', Dr Aric Sigman argues that "whether it's Facebook, the internet or computer games, screen time is no longer merely a cultural issue about how children spend their leisure time, nor is it confined to concern over the educational value or inappropriate content – it's a medical issue".
In a relatively short time, our dependence on screens has become all consuming. So, how much screen time is healthy?
Not much apparently! According to the experts:
None for children under two.
No more than an hour a day for children aged 2 to 5 years
No more than two hours a day for children aged 5 to 18 years - a tough call for teenagers when homework often requires computer time, so you may choose to exclude this time and focus on the real danger of non-educational, leisure screen time.
Here are some guidelines that might help to reduce screen time:
Do not allow TVs, computers or any screen-based device in a child's bedroom.
Put away your own digital devices when at home and/or in front of your children.
Create media-free zones in your home.
Banish TV dinners.
Explain the effects of too much screen time and why you are limiting it.
No screens before bedtime.
Create a list of things your children can do as an alternative to screen time, such as going for a walk, playing sport or creating arts and crafts.
To find out more about technology and its use, or how our experienced and enthusiastic team encourage and inspire students to reach their full academic potential and to become the best they can be, sign up to our enewsletter.