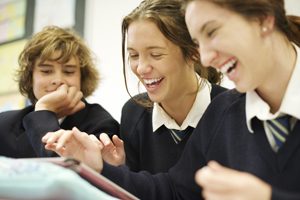 Discover how EACS instils a love of lifelong learning
There is a strong argument that technology has made the human population less intelligent. It is hard to disagree when we see an increasing lack of engagement in school, declining standards in literacy and numeracy, and an inability for students to think for themselves. All while gifted students may be held back by a curriculum that is determined by a child's year level rather than their interests or abilities.
At EACS, we believe the introduction of the Big Picture Program for Year 10 students, who are at a critical phase in their learning, will counter the following issues:
Frustration with a content-laden curriculum.
Over-emphasis on marks and grades.
'Tick-box' approach to education - schooling rather than learning.
Loss of relevance to life and the needs of the future.
Disengagement of students.
The Big Picture Program aims to engage students in their learning so that they become lifelong learners – check out a previous blog about how EACS's Big Picture Program accommodates all learners.
The Big Picture Program seeks to immerse children in their own interests and passions, no matter what they might be, providing every child with the opportunity to go on to further study.
If you'd like to learn more about the Big Picture program and how Esperance Anglican Community School instils a love of lifelong learning, download our information leaflet and Frequently Asked Questions.