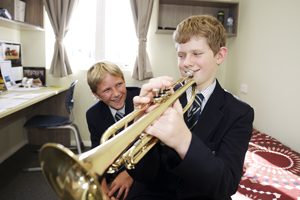 Explore a day in the life of an EACS boarder
To board or not to board? Often a question families give great consideration to. For those in rural areas, it may not be a choice, but a necessity, to avoid long commutes and provide their child with the opportunity and stability they feel they deserve and will benefit from.
There are many benefits to boarding:
Access to curricular and co-curricular activities
Structured environment with rules and routine
Allocated time for study
Students develop qualities of resilience, self-reliance, initiative and humility.
It enhances important life skills including organisation, collaboration, teamwork, leadership and the formation of study and work habits – lifelong skills that students will carry to lead successful adult lives.
If you are considering Boarding school for your child, you may wonder how their time would be structured. Here's a typical day in the life of an EACS boarder:
Students rise at 7.00am, dress, shower, tidy rooms, enjoy breakfast together and undergo room inspections before leaving for school at 8.20am.
Students return home at 3.05pm for afternoon tea and Co-curricular activities.
Wash-up before enjoying dinner at 6.15pm.
Supervised preparatory work (homework) in the evenings (5.00pm to 6.00pm and 7.00pm to 8.00pm), with learning support available twice per week.
Breaks followed by supper with bedtime at 9.00pm (Years 7 to 9), 9.30pm (Year 10) and 10.00pm (Years 11 and 12).
You can find more about Boarding at EACS by downloading a copy of the Boarding Handbook or contacting our House staff on (08) 9083 2444.