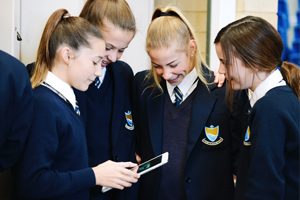 EACS nurtures the employability skills required to build successful careers
As you may know from previous blogs (check them out here and here), the Big Picture Program supports students to create a personalised learning plan based on their own passions and interests. The program empowers students to develop the knowledge, skills and character they will need to build successful careers and fulfilling lives in the 21st century.
We know that students who are engaged in their learning are more likely to succeed. The Big Picture program allows young people to achieve their potential by specialising in areas of study they have a genuine interest in. This interest is then nurtured to grow even further through partnerships with the wider community, where students work with mentors to gain hands-on experience, skills, training and understanding of their particular area of interest.
The mentors share their own experience and expertise to assist the student in developing their personal project in a hands-on and realistic way. This expertise is usually closely aligned to the area of interest being pursued by the student.
Through the program, EACS nurtures the employability skills required to build successful careers in its students, developing skills such as: collaboration, communication, creativity and critical thinking. Developing literacy in information, media and technology is also encouraged. Life skills such as leadership, initiative, sociability, self-confidence and flexibility are promoted. In short, it prepares students very well for life.
By making learning personal and relevant, the Big Picture Program aims to improve productivity, increase student engagement and instil a love of lifelong learning. To find out more about EACS and our Big Picture Program, download the information leaflet and Frequently Asked Questions.