LUNCH WITH 'EACS' ESPERANCE ANGLICAN COMMUNITY SCHOOL
'THE BIG PICTURE'
Thursday 22 March 2018
Start time; 11:30am
Location: Esperance Anglican Community School
5 Griffin Street, Esperance
www.esperancecci.com.au
Phone: (08) 9071 5142
admin@esperancecci.com.au
Lunch with EACS:
Welcome at 11:30am
Tour and Talk with EACS Staff and Students 11:30am to 12 noon
Lunch and Networking 12 noon to 12:30pm
Educating the whole person - in mind, body and spirit - as a unique individual with their own talents and capabilities is at the heart of Esperance Anglican Community School.
The Big Picture program supports young people to achieve their potential by specialising in areas of study in which they have a genuine interest. This interest is stimulated further through involvement with mentors and within the wider community.
A mentor is a member of the wider community who, by using their own experience and expertise, can assist the student in developing their project in a realistic way.
In short, Big Picture prepares students very well for life.
Read more at Big Picture Snapshot.
RSVP'S ARE ESSENTIAL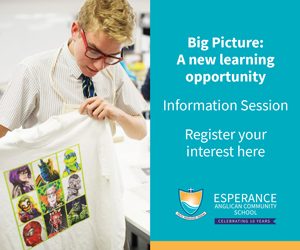 Information Session - Thursday 22 March, 11.30am to 12.30pm. Register your interest to attend.