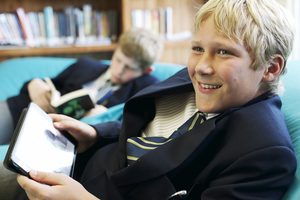 The impact of boarding in regional areas
Regional families with children at Esperance Anglican Community School (EACS) often comment on the value their children yield from our Boarding programme – citing our structured routine, access to curricular and co-curricular activities, and the lifelong skills which enable their children to lead successful adult lives.
In light of the WA Government's abolition of the Royalties for Regions subsidy that had been helping regional families with education costs since 2008, what is the true impact of boarding in regional areas?
The impact of boarding in regional areas is significant. Not only does the next best alternative often involve a long commute, but without it, families may not have access to a quality education that provides the opportunity and stability they feel their children deserve and will benefit from.
According to a research study, almost all regional families believe their local school provides sub-standard learning conditions, with a lack of access to the same secondary education choices and standards found in Perth.
Facilities such as classrooms, computers, desks and chairs, ovals, sporting equipment, access to course options in Year 11 and 12, as well as access to further education and career choices are considered inadequate.
There is a belief amongst regional families that teaching and management at local schools is of poor quality, and if they want to experience a sense of achievement and success at secondary school, they had to deliberately circumvent their local pathway.
With many local schools suffering high staff turnover, parents of regional school aged children see Boarding, such as that provided at EACS, as an exciting opportunity and a mandatory investment if they dream of a successful and bright future for their children.
At Esperance Anglican Community School, we are dedicated to helping our students flourish, developing people of character with a strong sense of identity and a passion for learning who will become great contributors to the region and beyond.
Our facilities for both boarding and day students are excellent. Boarding students benefit from single or twin rooms, each with their own ensuite. Our boarding students also enjoy:
After school sporting, outdoor education and community service activities
Scheduled weekend activities
Structured evening study
Laundry service
Health and pastoral care
As part of our mission, and in a bid to ease the burden on families while still providing their children with the opportunity to realise their full potential and become lifelong learners, our new boarding bursary for regional families reduces tuition and boarding fees to $21,000 per annum, inclusive.
Click here to explore a day in the life of an EACS boarder.
You can find more about Boarding at EACS by downloading a copy of the Boarding Handbook or contacting our House staff on (08) 9083 2444.
You can learn more about our Boarding Bursary here.