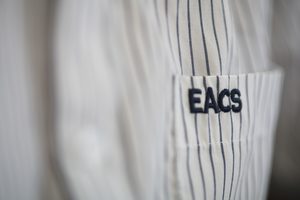 10-Year Anniversary: Our proud history
This year we celebrate our school's tenth year. Esperance Anglican Community School was founded on Monday 4 February 2008 with just nine students. Since then, we have grown rapidly to become a valued contributor to our local regional community.
We are proud of the way our students, parents and staff have helped to create a community that embraces individuality while achieving an overall sense of unity.
During the first Term, our initial classes were held at the Civic Centre in town. In Term 2 of our founding year, the School moved to its' current site at Griffin Street. Founding Principal, Mr Ian McKay led a team of five teaching and administrative staff to educate and nurture the original cohort of nine Year 8 students.
Mr Kerr Fulton-Peebles was appointed as Principal in 2013. Today, approximately 200 day and boarding students from Years 7 to 12 attend our school. Boarding was introduced in 2015 and has allowed the School to continue to grow and better serve the needs of our surrounding regional areas.
EACS has now been firmly established as part of the educational landscape in Esperance and the greater region. The School has an excellent reputation for providing a holistic and wholesome education of high standards. Over the last 10 years, there have been a number of significant achievements:
The introduction of boarding in 2015 to service the needs of our neighbouring regional communities, providing an affordable boarding option for country families closer to home.
The addition of the Big Picture Programme to create greater choice in academic pathways for our students.
The growth of a successful outdoor education programme and implementation of adventure camps to complement classroom learning and provide memorable learning experiences for our students.
Continued growth in academic outcomes, with steadily improving ATAR results.
Through abundant service learning initiatives and community events, we have established strong ties with our local community.
Growing competitive sporting success, with added opportunities for skills development through the introduction of specialist sporting programmes in tennis and netball.
The continued growth of a diverse student body, with both day and boarding students in all years of high school.
A successful building programme that has allowed the School to secure all of the required facilities needed to offer a wide range of education opportunities.
A long-serving staff member commented, "The School has survived and prospered without compromising its core principles and values in providing an affordable, private education of quality."
"It has been great to be a part of something quite unique," another offered.
Our founding vision remains core and is embedded in the fabric of the School as we strive to encourage our students to embrace and fulfil the talents with which they have been blessed. It is our aim that our students develop these talents and become great contributors to the region and beyond.
To celebrate our 10-Year Anniversary, Esperance Anglican Community School is setting up an Alumni group. We would like to connect with and celebrate our past students. Our graduates can remain involved with the School through mentoring, reconnect with each other at reunions and special school events.
If you would like to find out more about Esperance Anglican Community School, sign up to our enewsletter.