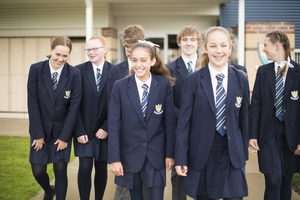 How to help teenagers with career planning
Looking at career options with teenagers can be daunting. While some students will have a very clear career path in mind, others will find the career planning process more challenging.
Technological advancements and globalisation have caused unprecedented change in the workforce. With the job market landscape constantly evolving, career planning only becomes even more difficult. According to an article in the Financial Times, we should be planning for five careers in a lifetime. This means, today's high school graduates need to be adaptable, resilient and eager for continual learning.
There are two fundamental factors that need to be considered when deciding upon a career path:
What are the child's personal strengths and interests?
What are the available career options?
Many young people tend to get side-tracked by how much money they can potentially earn or the type of clothes they might be able to wear. It's important to stay focused on the larger picture and play to your child's individual strengths. Staying flexible is also key.
Attending career information evenings, university open days and interviews with career counsellors will provide students with a thorough understanding of what their career options are as well as give a clear picture of what each option entails. There are a number of online resources that can help to identify the kind of work environment that is best suited to an individual. These assessments measure personal interests, talents, goals and determine the nature of a student's personality, academic ability and employment preferences.
Here's five practical tips for parents to help teenagers with career planning:
Encourage your child to pursue work experience in career choices that interest them. Often the reality is much less appealing than perception.
Talk about career options with your child, without pressuring them down a particular path. It's important that teenagers develop a strong sense of self-awareness and independence.
Change is OK. Remembering that the future workforce can expect to have up to five career changes during their lifetime, it's never too late to change your mind. If subject selections are not quite as flexible, many universities have bridging courses available. Helping your child learn the essential trait of resilience will be key in preparing them to accept and manage change in the future.
Help your child to determine their career priorities: location, money, work environment and work-life balance.
Encourage your child to talk with the School's career counsellor and attend career information sessions and university open days. They may discover a career they haven't even considered.
Esperance Anglican Community School is dedicated to developing people of character with a strong sense of identity and a passion for learning who will become great contributors to the region and beyond.
Our school has a dedicated and trained careers advisor who can help teens with career planning and subject selections.
If you'd like to learn more about the learning opportunities at EACS, sign up to our enewsletter.