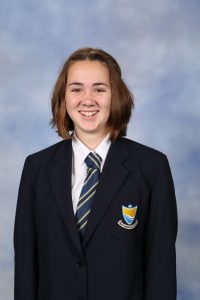 Student Profile: The Big Picture Program in action
By Maddilyn McGrinder, Year 9
My passion is swimming. I have chosen to participate in our school's Big Picture Program because I enjoy being able to work on something that I love. Naturally, my Big Picture topic draws on my passion for swimming – swim coaching!
I believe having a good coach can make a big difference to your swimming achievements and whether or not you can improve as a swimmer. In Term 1, I learnt how to write and implement a proper training session for swimmers. Explaining these sessions and their purpose to the swimmers was very rewarding.
A typical day in my Big Picture class starts with goal setting. Every day begins with documenting a few goals in our diaries, to focus on what we want to achieve during that class. Once we've established our goals for the day, we start work on achieving those goals. Typically, this means working on my next training sessions, researching drills and getting a good understanding of their purpose. If I'm not writing a new session, I'm reflecting on the last session that I've held with my swimmers.
This is no ordinary class. Everyone is encouraging about all of the different projects within the classroom. Each project is driven by so much passion, you can tell that everyone enjoys the work that they are doing.
I have discovered a lot of tips that Mr Castelli (my Mentor) has experienced throughout his time as both a swimmer and coach. As Mr Castelli is also my own coach, I've also been able to experience his coaching first-hand and this has been a great benefit to my project.
Big Picture is a really good program for students who don't know what they want to pursue as a career. It gives them an opportunity to learn at their own level and speed. Big Picture is also a great pathway for students who aren't great in tests and don't want to do ATAR.
Big Picture is a personalised approach to education that combines academic work with real-world learning. Focusing on one student at a time, Big Picture supports students to create a personalised learning plan based on their own passions and interests.
By making learning personal and relevant, the Big Picture Program aims to improve productivity, increase student engagement and instill a love of lifelong learning. To find out more about EACS and our Big Picture Program, download our Frequently Asked Questions.