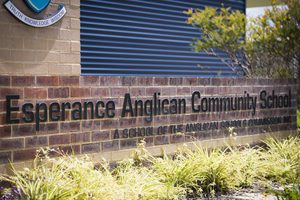 Alumni: Where are they now? Maximilien Bosworth '17
As we celebrate the School's 10-Year Anniversary, we look back on the young people who have helped shape our history.
Maximilien Bosworth graduated from Esperance Anglican Community School in 2017 and has been studying Music at the University of Western Australia this year.
He is thoroughly enjoying his experience at UWA and the opportunity to study a subject that he is passionate about. "Studying music allows me to see further into music than I've ever been able to experience before," he said.
Of his time at EACS, Maximilien said, "Learning in an environment that values students individually was remarkable and I would not be where I am today without such a community."
"Having high school teachers who understood and encouraged my extra-curricular activities really enabled me to not feel held back in any way, shape or form," he said.
He credits Mrs Saunders for nurturing his passion for music. "The lovely Mrs Saunders will always be in my heart as my favourite teacher," he said.
With a passion for learning and having been inspired by his own teachers at EACS, Maximilien sees himself teaching or furthering his own education in the next 10 years.
He has also some advice for EACS students, "Find your passion. In an environment as supportive as EACS, your teachers will do everything in their power to help you succeed. Don't allow yourself to be limited just because you go to a country school. There are so many opportunities for you at EACS."
To celebrate our 10-Year Anniversary, Esperance Anglican Community School is setting up an Alumni group. We would like to connect with and celebrate our past students. Our graduates can remain involved with the School through mentoring, reconnect with each other at reunions and special school events.
If you're an EACS graduate, please register your details so we can keep you updated with school news and events. Be sure to write 'Alumni' in the subject cell!