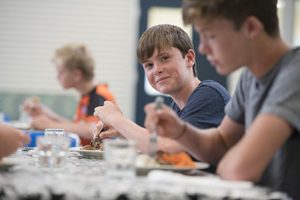 Top tips for holidaying with teenagers
Taking your teenagers on holiday can provide quality family time and bonding experiences as well as a certain level of frustration all at once. As a teenager, the smallest thing can feel like the end of the world. Teenagers are evolving from childhood to adulthood – there is so much for them to learn, see and do.
Adolescence is a time of significant physical and emotional change. Teenagers will come to terms with body image, social pressures and online influences. It can be a time of angst … for teenagers and their families!
So, amongst all of these issues, you've decided to take your teen on a holiday. This could be met with feelings of excitement or obligation. Or both. Either way, we've uncovered 5 top tips for holidaying with teenagers:
Promote freedom and responsibility
Depending on how old your teenager is, it might be appropriate to give your teen some freedom. Independence is a vital skill for the transition to adulthood. Holidays can provide the perfect opportunity to give your child more freedom as you explore new places and all they have to offer. Get your children involved in vacation planning and ask them for ideas on potential family activities and dining options. When you arrive in a new town, send your teenager out on a discovery mission. It is unlikely they will be surrounded by their friends so there is less chance of them making misguided decisions in an attempt to impress or succumb to peer pressure. Or you can go one step further and assign your children a budget and have them make decisions on where to go and what to see. This will prove to be an excellent financial and budgeting less as well!
Consider your child's interests
What a child is interested in or what they'd like to do will differ from person to person. However, it's important to recognise that your teen is no longer a young child. What might have seemed exciting for your 12 year-old could have become quite mortifying for a 15 year-old. Daily meaningful connection with your teenagers will keep you abreast of their passions and interests and give you some idea of what they might like to do on holiday.
Encourage book reading
As helpful as smartphones are, they can be a rabbit hole for time wasting. Social media, mobile games and texting can seem like the most important thing in the world to a teenager. Encouraging your teen to disconnect and get stuck into a good book will provide a necessary break from screen-time and everything else social media brings to the mix. Encouraging teens to read THE good book (the Bible) will give them the opportunity for more personal time in God's Word.
Respect the need for personal space
Whilst holidays provide great opportunities for quality family time, they can also provide a well-earned break from the usual distractions of home and some vital alone time. Encourage your child to read, listen to music or explore your holiday destination. Time away from friends and distractions can allow for some perspective and time to refresh the mind before returning to school rejuvenated.
Plan for time to connect as a family
You can prepare for quality, bonding time as a family by bringing favourite games and activities from home. You might enjoy throwing a frisbee together, playing a board game, charades or cards, or go snorkelling or fishing. Many traditional board games now come in convenient travel card sets to make packing and travel easier. Oftentimes, new rituals and fun family activities are born on vacation. It's important for everyone to relax and have fun together.
Schools and families need to work together to promote the health, wellbeing and learning of all students. Esperance Anglican Community School is dedicated to developing people of character with a strong sense of identity and a passion for learning who will become great contributors to the region and beyond.
If you'd like to stay in touch with all the latest news and events, please sign up to our e-Newsletter.