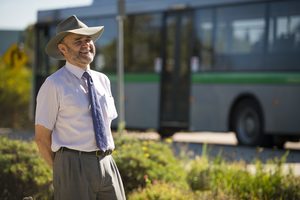 10 Years: Recognising our history to secure future success!
On Monday 4 February 2008, Esperance Anglican Community School officially opened it's doors to the community of Esperance. Starting with a class of only nine students, EACS has grown from humble beginnings and is now a respected education provider to Esperance and the surrounding regions. 2018 is the ten year anniversary of EACS so we thought we would look back at the last decade and ask some of our staff what key achievements and milestones they think have helped shape what EACS is today?
'I would say a key achievement from a teacher's perspective is seeing so many students out in the community doing service, internships and weekend activities. There is so much that EACS students have to offer and the community is benefiting from it. It's all in the name – Esperance Anglican COMMUNITY School. I think the school is doing a great job at nurturing mature, kind and skilled young adults in Esperance.'
'For me, over the past four years, EACS has grown into a more inclusive environment. Not only do we, as a school, cater for those students that suit a traditional classroom and study regime but now offer so many more opportunities to cater for those students that are able to excel in their chosen fields with Big Picture.'
'The willingness of staff to embrace change and seek out exciting new educational frontiers such as Big Picture.'
'The willingness of staff to provide opportunity for students to attend curricular, co-curricular and extra-curricular pursuits to 'make the learning real'. All whilst broadening the scope and understanding of students in the wider Esperance community and indeed further afield, both intra and inter-state.'
'The overwhelmingly warm and friendly students at the school who are largely supportive and respectful of individual differences.'
'The inception of the school's Good Standing Policy, which deals with all aspects of reward and discipline in the school. The policy both incentivises students whilst placing the onus of responsibility back on the student to manage their own behaviour to avoid consequence. Students have overwhelmingly responded well and understand that to benefit from all the rights and privileges associated with being a student of EACS, there are certain responsibilities and expectations to which they must abide.'
'The School has become firmly established in the educational landscape and is seen as a serious alternative to the local senior high school. Its reputation in the town and beyond has grown and is viewed in a very positive way.'
'The addition of boarding has allowed our style of education to be available to families from a wider area.'
'The growth of a whole range of co-curricular activities has really allowed us to 'live' our philosophy of educating in mind, body and spirit. This has included real expertise and success in sport – netball, tennis, volleyball, basketball and dance, all come to mind. Drama has thrived with productions of real quality and music has gone from strength to strength. We are also building expertise in all areas of outdoor education.'
'The School now has a complete range of facilities of high quality and a sufficient quantity of classrooms, science labs, art rooms, technology workshop, boarding house and sports facilities.'
'Parent satisfaction is at an all-time high with the opportunities, sense of community and high standards of pastoral care and education all mentioned as significant. Respect for the abilities of teachers has grown year-on-year and is now at a level well above national norms.'
'Investment in staff training has reaped rewards in the form of a wider variety of learning opportunities and teaching styles. ATAR results, from a non-selective cohort, have improved steadily with many students now attending universities in Perth – UWA, Curtin, Murdoch, ECU and Notre Dame.'
We are so proud of what we have achieved in our first ten years of educating members of our community and surroundings. Learning, growth and wisdom all come from experience and reflection, that is why it is very important for us to look back at the last decade in order to better our educational offering in the future. We are always striving to deliver our best to the students and parents of EACS. By examining the highs and the lows of our journey so far, we can ensure that we continue to deliver the high quality education your child deserves.
If you would like to find out more about EACS, subscribe to our newsletter.