Dear Parents and Carers,
The end of another week and our ATAR candidates are almost half-way through their exams; Years 10 and 11 start their diet next week, with Year 11s on study leave, unless in School for exams (in uniform of course).
Commendations
Hopefully they will be expending the levels of effort shown by the following students who gained commendations recently.
Bronze
Lucy Hart
Seton Fasinini
Ben Murgatroyd
Jorjia Smithies
Silver
Lauren Ware
Gold
Pearl Mitchell
Chess
Congratulations to the boys who represented the School in this year's Chess Congress: Regan Mott, Alex Middleton, Lachlan Kerr, Ashton Burnside, Bailey Fiegert and Fletcher Podmore. In a close tussle EACS defeated ESHS 75 points to 70 regaining the trophy.
Volleyball
I thought I should update on the success of Year 12 students Demi-Lee Barker and Darby Smith who fared very well in a recent beach volleyball contest in Perth.
They participated in the Think Again High School Beach Cup in the 2-a-side (pairs) Open Female division in Perth. They won all games except one, losing only to a team of two state-level players. They came equal-first place in their division but did not qualify for finals due to a count-back of overall points. They represented the Esperance Volleyball Association and EACS at a very high standard and should be commended on their efforts.
Prefects
I have now spoken to all Year 11s about prefect appointments. There was complete congruence between the staff and student votes which indicated that Shaj Varea, Zachary Fox and Lachlan Kerr should be our Senior Prefects - they will now be interviewed for the positions of responsibility associated with the role.
The remaining students in Year 11 have been given the opportunity to serve as pro-Prefects and will let me know if they wish to serve in this capacity and what they can contribute in the role.
The first leadership task for all Year 11s will be to assist with Transition Day on Friday 16th.
This has been an unusual year for the appointment of Prefects, but I believe that this is as good a way as any to give leadership opportunities consistent with the abilities of the individuals and the size of the cohort.
Staff News
As you will know from 'Brekkie Bytes' Mrs Lisa Marquis has taken on an additional role – to that of Head of Teaching and Learning – as Big Picture Co-ordinator, with effect from January 2019. In recognition of the significance of her new role she has been appointed as Assistant Principal, reporting to the Deputy Principal, Mr Iain Clark.
St George's College Camp
Year 9 parents will have heard from Ms Green about this camp which takes place in Perth but just to remind you the flyer is shown below.>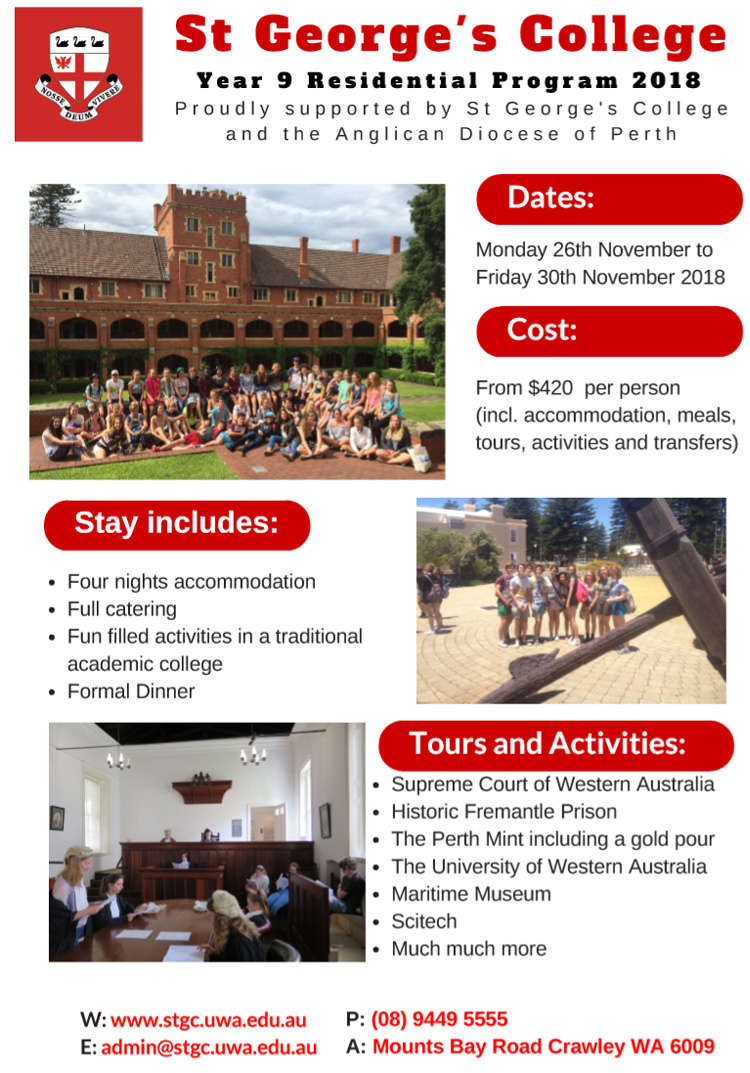 Skoolbag
We have used this app for a few years, but I sense that the need for it may now be diminished. Unless I receive numerous and vigorous objections I will aim to terminate its use next year.
Calendar
I hope that a summary of key events will help with your planning but please remember that I also publish these in EACS Brekkie Bytes, and that they appear in the calendar on SEQTA and on the website.
The Week Ahead
Week 5
Jackman on Duty
Year 10 and 11 examinations
Year 11 on study leave
Further Ahead…
Monday 12th November - Mid-Term holiday - School closed
Tuesday 13th to Friday 16th November - Year 7 to 9 Examinations
Friday 16th November - Transition Day for Year 6 students
Monday 19th November – First Aid for snake bites – training for all students
Tuesday 20th November – Summer Soiree and opening of the pavilion
Thursday 22nd November – Year 10 Big Picture exhibition and social for mentors
Monday 26th to Friday 30th November - Year 11 Outdoor Ed expedition
Monday 3rd December – Eucharist and Year 12 Leavers' Dinner at School
Tuesday 4th December - GSSSSA Athletics Competition
Wednesday 5th December – 1830 - Awards' Night
Thursday 6th December - Beach Volleyball Carnival
Thursday 6th December - Final day of School for students
Friday 7th December - Staff training day – student-free day
With every good wish for the coming weekend.
Yours sincerely,
Kerr
P. Kerr Fulton-Peebles
Principal