Dear Parents and Carers,
Camps
Although our website contains all the information regarding fees and associated costs I thought that a reminder of the main camp costs might be helpful. We do seek to assist parents by offering payment plans if needed: please contact Reception if this is an option that you would like to explore.
EACS Expected Camp Costs 2019
Year Group
Camp Details
Approx Cost
Year 7
Metricup Camp
$700.00
Year 8
Metricup Camp
$700.00
Year 9
Canberra Camp (Optional)
- can be reduced with fundraising
$2500.00
Year 10
Work Experience Camp
$550.00
Year 11
Outdoor Ed Camp - Snorkelling
Outdoor Ed Camp - Hiking
Outdoor Ed Camp - Cape to Cape
$55.00
$55.00
$650.00
Year 12
Outdoor Ed Camp - Fishing
Outdoor Ed Camp - Rottnest
$55.00
$650.00
Year 8 - 12
County week (Selected students)
$650.00
All Years
Kalgoorlie - Netball
$45.00
Kalgoorlie - Cricket
$45.00
Kalgoorlie - Basketball
$45.00
Kalgoorlie - Volleyball
$45.00
Interschool Carnvals - Albany
$75.00
Music Camp (Band Students)
$350.00
Sundowner for New Parents/Carers
This was a very convivial and enjoyable occasion, which provided an ideal opportunity for renewing friendships and making new acquaintances. Many thanks to all who attended for making it such a successful evening.
Homework
As in previous years we have identified specific days for individual subjects to set homework, which helps students in Years 7 and 8 to manage their workload. The details are outlined below but if there are any issues please make contact with the relevant teacher.
Year 7 Homework schedule
| Subject | Day |
| --- | --- |
| Science | Monday |
| HASS | Tuesday |
| Mathematics | Wednesday |
| English | Thursday |
Year 8 Homework Schedule
| Subject | Day |
| --- | --- |
| Science | Tuesday and Thursday |
| HASS | Wednesday and Friday |
| Mathematics | Wednesday and Friday |
| English | Tuesday and Thursday |
Recommended Time Allocation
Year
Daily
Weekly
7
45 minutes
4 + hours
8
60 minutes

We also encourage reading for 30 minutes per night for interest and pleasure

5 + hours
Communications
To assist with communications, we have produced a Parent Information Handbook, a copy of which was given to your child to pass on to you; if you have not received a copy please contact Reception for one.
Uniform and Appearance
We have had a good start to the term in many respects not least with the appearance and demeanour of students. This said you should be aware of the requirements that we have communicated to all students.
Hair
Boys' hair must always be tidy and respectable. Hair should be no longer than the top of the collar with ears clearly visible and fringes neat and away from the eyes. Haircuts are not to be shorter than a number 2 blade.
Girls' hair longer than the top of the collar must be tied back using navy scrunchies or the new School scrunchies available from Reception at a cost of $4. Fringes should be neat and away from the eyes. Hair colouring must be consistent (not streaked) and close to natural colour.
Jewellery
The following constitutes the only acceptable jewellery when in school uniform or involved in school activities:
Necklace with a small cross of religious significance
Wrist watch
Medic Alert bracelets/necklaces recommended by a doctor with approval of the Principal
One set (i.e. pair) of discreet sleepers or studs in lower ear lobe
Official school badge and other badges presented and/or approved by the School worn in the
approved positions
Items of jewellery not permissible include: rings, bracelets, anklets, pendant earrings, nose studs,
necklaces which are not approved for medical or religious reasons
Cosmetics/Makeup
The only acceptable cosmetics when in school uniform or involved in school activities are natural or clear nail polish, sun protection products (natural colouring only) and a light foundation to cover skin blemishes. Students applying excessive makeup will be sent to the office to have it removed.
iPad User Agreement & Parent Agreement forms
All new students need to return their signed copies of these forms to Reception as soon as possible please. These were handed to all new students at the beginning of term.
Good Standing Student Contract Acceptance forms
A reminder that these forms, which were emailed to parents, need to be signed by both parent and student and returned to your Advisory Tutor as soon as possible please.
Swimming Carnival
Do you like to swim? Are you aged between 8 and 108? Esperance Sea Dragons need you! Come and have some fun at our Splash and Dash Carnival on Saturday 16 February, starting at 1pm, at the
Leisure Centre.
Register via this link https://myswimresults.com.au/Meet.aspx?MeetID=AUS|4507
Study Skills
We will, again, be running a series of seminars for all students on Wednesday 27th and Thursday 28th February to hone their skills in studying effectively. There is also a session for parents on the evening of Wednesday 27th. This Elevate programme builds on the work done in Advisory Groups, and on the start we made last year on a whole-school programme. Our experience last year confirmed the quality and value of the programme.
Mathematics Expo
Some of our students may be interested in the forthcoming maths expo details of which are noted below: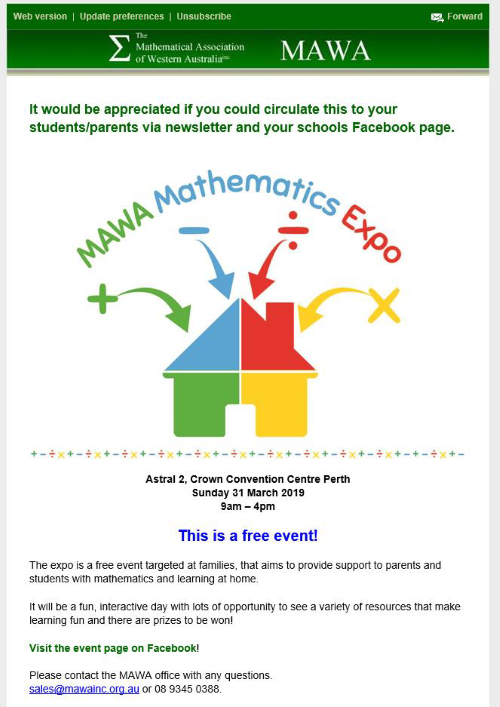 Forthcoming Events
Although details are in the calendar you might like additional notification of the following events:
Tuesday 19th February – 1715 PFA Meeting at the School in Dempster 2
Wednesday 27th – Thursday 28th – 'Elevate' study skills programme including a parents' session
from1800 on the Wednesday
With every good wish.
Yours sincerely,

P. Kerr Fulton-Peebles
Principal