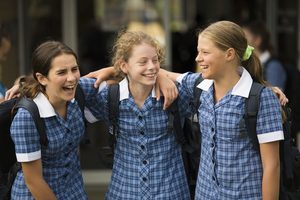 10 tips to start the new school year well
The holidays are finally over, and the school year has begun. The beginning of a new school year is always an exciting time for parents and students alike. There are new opportunities to discover and new beginnings to experience. So how can you help your child to start the new school year well? Here are 10 tips to ensure your child kicks off the year with confidence and optimism.
Set goals for the year
Some clear, concise goals will go a long way in motivating your child and measuring their improvement across the year. These could be academic, fitness or organisational goals. The SMART goals system is a great guide for goal setting.
Co-curricular activities
Are there any new extracurricular activities that your child might like to try this year? Maybe your child would like to try a new sport or learn a musical instrument?
Create a homework schedule
A homework or study schedule is a necessary addition for your child, especially if they are starting Years 11 or 12 and need to be vigilant with their use of time. There is a study skills course available to all students that is run in Term 1.
Make sure they have all the stationery they need
Ensuring your child has the necessary stationery means nothing can stand in the way of their learning at school, and also that your child has no excuses when it comes to homework time. Buying new stationery can be a fun activity for younger students as well.
Rein in their bed and screen time
The holidays can mean that bedtimes get a little relaxed and time in front of the television, computer or tablet can increase. Reining in your child's bedtime and decreasing their screen time not only signifies a return to school and learning, but will help your child's learning to be more effective. Eight hours minimum is recommended.
Ensure their school uniform fits
Teenagers are always changing and growing, and summer holidays might just last long enough to go from having a uniform that fits to one that is too small. Check that your child's uniform is still fit for their use.
Label everything
As arduous as labelling can be, there is a reason it is such common practice – it's worth the effort.
Prepare a diary
Having a diary is an organisational essential and if updated regularly, will ensure your child stays on top of their school work and life outside of school. The School diary is perfect for this and should be used by all students.
Get involved
Research shows that being involved and invested with your child's education is the best thing you can do for their schooling success. Don't be afraid to ask questions of your child's teacher and investigate ways in which you can get more involved in your child's education. For administrative queries contact the School Office, academic queries are to go to your child's Subject Teacher and pastoral queries are to be directed to your child's Advisory Tutor. Refer to the Parent Handbook for more information.
Pray with your child
Spending a moment in prayer with your child for a successful and joyous year can really comfort them, especially if they are nervous about school. It will serve to bring you and your child closer in relationship with God, and it can be done anywhere, at any time, for anything.
If you would like to know more about schooling at Esperance Anglican Community School, sign up to our newsletter.