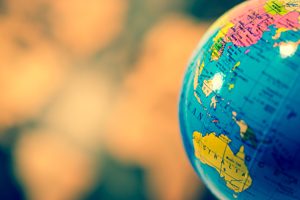 Australia's excellent reputation for high quality university education, our proximity to Asia and a favourable dollar have boosted education to become Australia's third biggest export, behind only iron ore and coal. While these statistics relate to tertiary education, as educators our role is to prepare students to succeed in a competitive, globalised world. Increasingly, this means equipping them from an early age with the skills and understanding to connect and build relationships with people from a diverse range of cultures.
Opportunities for students to engage with the world and experience the benefits of global connections, often begin in secondary school. Sister school relationships, student exchange, language tours, gap years and short cultural tours are just some examples of how schools are engaging with other schools and communities across the world.
Let's look at the specific benefits of global connections in education for teenagers and school communities:
New experiences: To experience another country and culture opens a student's eyes to a world beyond their comfort zone and what is known to them. For students who are studying a language at school, an international experience enables them to advance their language skills outside the classroom with host families, new friends at school and teachers.
Different education system: An international exchange enables students to experience learning within a different education system. For some this may require having to adjust to a new learning and assessment style or expectations. Other benefits include the potential to access courses and learning contexts that may not be offered at home. For example, Australia's indigenous history and culture, or Outdoor Educational experiences for Asian students visiting Australia.
Independence and resilience: Independence and the requirement for young people to 'stand on their own feet' when away from their family are obvious benefits of an international exchange. While many students will be hosted by a family or within a boarding environment, they will learn to think more independently, develop their problem-solving skills, collaborate and 'live' an experience that they not be familiar or comfortable with. These are desirable skills for a future employment market that will favour those who can innovate.
Future study and travel opportunities: While most international exchange programs or tours are for a short period, the connections, friendships and bonds formed with the local community are often lasting. Supportive relationships in an international destination can help encourage future travel plans, potentially even tertiary study opportunities abroad.
At Esperance Anglican Community School, we develop young people of character with a strong sense of identity and a passion for learning who will become great contributors to their communities in the region and beyond.
In the coming weeks and throughout the year, our students will be the beneficiaries of several cultural exchange programmes with students from Japan, Switzerland, Italy and France. An alliance with the newly formed Anglican Schools Commission's International branch will also result in international students joining our boarding community later this year. These initiatives support our commitment to helping our students to connect and create relationships across cultures, both locally and globally.
If you'd like to learn more about how our school is preparing young people for the future, sign up to our eNewsletter.