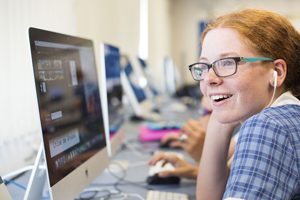 In today's society, it seems that young people spend all of their free time online. The number of hours that children spend online can vary dramatically.
In Esperance, we are more fortunate than large metropolitan areas when it comes to screen time. The young people in our community benefit from the magical landscape that surrounds us, providing many opportunities for them to pursue outdoor activities. It could also be argued that our internet access and television viewing options are somewhat limited when compared to capital cities. Sometimes, screen time is not even a possibility!
But as we embark on the winter term break, it is important to consider how screen time is managed during school holidays. While there is no 'right' amount of time for young people to spend online, certain guidelines can be followed to ensure that online activity does not negatively impact on a child's behaviour or wellbeing.
Historically, child development experts have recommended a maximum of two hours' screen time a day. However, a new study published this year in the US-based journal Psychiatry Quarterly found that anything up to six hours a day would have no negative impact on a child's development and can be considered as 'normal'.
In my opinion, six hours of screen time a day does seem rather a lot. However, during school holidays I can appreciate that children can very quickly rack up this amount, especially in the winter months when outdoor activity can be limited.
The definition of screen time is any time spent using a device. This can be a mobile phone, tablet, desktop computer, television or even a games console. One movie alone could add up to two hours or more.
So, what must we consider when monitoring screen time during the school holidays?
Moderation. Ensure your child is getting enough sleep and exercise. If you make sure that your child maintains a healthy balance of outdoor activity and screen time, their screen use is very unlikely to have a profound negative impact.
Set clear expectations. Make sure your child understands your expectations around acceptable screen use. Establishing consequences for taking advantage of screen privileges will also help to reinforce your expectations. I have found the removal of screen time privileges to be an excellent motivator and disciplinary action for getting young people to complete household chores. I would also recommend banning screen time for the hour before bedtime as screen use before bed is said to negatively impact sleep.
Formal agreement. Consider implementing a family agreement about the amount of time your children can spend online.
Act promptly. If you see an emerging problem or signs of addictive behaviour when it comes to screen time, act on it right away. The longer you wait to address an issue, the more difficult it will be to overcome.
Be involved. Talk to your child about any concerns you have and monitor what games, apps and devices are used. Getting involved when your child is using devices and helping them make good choices will educate your child and reinforce your expectations about screen time.
Provided a healthy balance of exercise and sleep is maintained there can be many benefits to screen time. Television, movies, video games and the internet can all have a positive influence on your child. Games, in particular, provide many opportunities to explore creativity, problem solve and develop critical thinking skills.
If your child seems particularly anxious or irritable, or you notice that they are becoming isolated from friends and other activities, talk to your family Doctor about your concerns.
If you'd like to learn more, sign up to our eNewsletter.