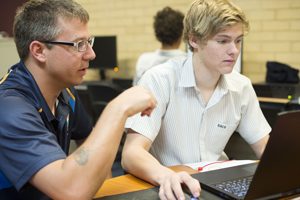 Technology is all around us. It has become a part of every day life. When we consider the place of technology in the classroom we must think about how we incorporate technology into learning to prepare young people for the future.
In the Future of Jobs report it is said that developments in fields such as artificial intelligence, machine-learning, robotics, nanotechnology and biotechnology will cause disruption to business models and labour markets within the next five years. Young people must be prepared to succeed in a workforce that will be very different than that of today. There will be a greater need for digital skills, creative and critical thinking and problem solving.
Technology can support learning in many ways:
Global connections – Technology does not have any geographic boundaries. Today, children can connect with and relate to people from all over the world from the safety of their classroom. They can also participate in authentic learning tasks of a far greater scale. This is particularly important for regional students, who would otherwise be very isolated from the rest of the world.
Student engagement – Young people are both creators and consumers of digital content. Many students become more motivated when technology is integrated into classroom learning. Web-based tools and applications make learning relevant and fun.
Individualised learning – Technology allows teachers to cater to different learning styles. Children can learn at their own pace and within the bounds of their own ability.
Future preparedness – Students will require a strong digital skillset in order to succeed in tomorrow's workforce. It is vital that they develop the analytical, organisational and problem-solving skills afforded by a good knowledge of technology.
Student voice – More and more we are seeing that young people want to be heard. The rise of user-generated content such as YouTube and social media has encouraged young people to create content and have a greater voice. It is little wonder that we have so many young entrepreneurs in today's society.
At Esperance Anglican Community School technology is integrated into classroom learning in many ways. We believe access to technology and digital assets enables children to learn independently, can improve focus and willingness to learn and teaches them to work collaboratively.
If you'd like to learn more about how EACS provides a range of learning pathways that prepare students for the future, sign up to our eNewsletter.