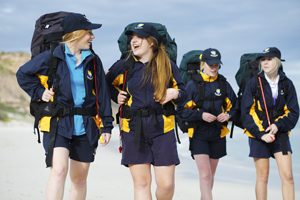 Outdoor education used to get a bad rap. There was a time when some considered it a 'soft option', or an 'easy out'. But in an era of childhood obesity and the ubiquitous role technology plays in our children's lives, outdoor education in schools has undergone something of a makeover. Certainly, an intentional and deliberate outdoor education programme, which is integrated across consecutive year levels can support and reinforce a school's pastoral care curriculum in settings that safely challenge students and encourage responsible risk taking.
Outdoor education has moved well beyond simply providing an opportunity for physical exercise, healthy living and relationship building. Contemporary programmes deal with concepts like leadership, fellowship, inclusiveness, identifying personal strengths and weaknesses, persistence, and the merit in working as a team towards a common goal. Now, research confirms outdoor education enhances brain function.
Natural environments provide real and measurable psychological benefits. Here are some of the proven benefits of the environment and brain function:
Nature improves attention, memory and cognition: Urban environments like classrooms, demand our children's constant and direct attention, which can lead to mental fatigue. Natural environments interact with our cognition in a very different way. Psychologists refer to this as 'effortless attention'. Activity in a natural environment engages cognitive function and nurtures brain capacity. Outdoor education engages various natural landscapes that provide our children with a multitude of stimuli.
Improves brain function: Physical activity has a direct impact on the amount of oxygen that is pumped to the brain – allowing for a more nourishing environment for brain cells to thrive. Exercise also helps to process information, which can enable us to understand concepts better.
Reduced stress and improved mental health: Research suggests that being outdoors in a natural environment can reduce stress and improve mental health. According to Stanford University researcher Gregory Bratman, "Nature scenes activate our parasympathetic nervous system in ways that reduce stress and autonomic arousal, due to our connection to the natural world."
Stimulates lasting memories: Studies have shown that the brain's hippocampus (the memory centre of the brain) grows when stimulated by out of the ordinary events, places and other happenings. Outdoor education provides memorable and novel experiences away from the classroom that can leave a lasting impression on children and improve their 'memory bank'.
Improved creativity and social intelligence: Outdoor education activities typically occur in open, natural settings which encourage group activity, cooperation and problem solving. Imaginative play, which is linked to social and cognitive development, is enhanced in natural environments due to the variety of objects, patterns and stimuli.
At Esperance Anglican Community School, students are encouraged to participate in a range of co-curricular activities to develop their talents and promote their sense of wellbeing.
Our Outdoor Education and Excursion programme aims to increase the level of challenge and is designed to complement students' academic and social development. The Programme focuses on promoting the qualities of self-reliance, initiative, co-operation, self-esteem, leadership and the capacity to deal with significant emotional and physical challenges in a safe and fun environment.
If you'd like to learn more about the learning opportunities at EACS, sign up to our eNewsletter.