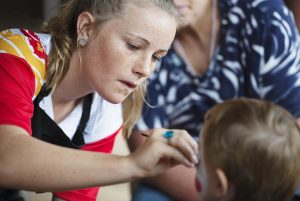 "One of the great ironies of life is this: He or she who serves almost always benefits more than he or she who is served." - Gordon Hinckle.
The benefits of community service are profound. Wharton professor Cassie Mogilner wrote in the Harvard Business Review that her research found those who volunteer their time feel like they have more of it. Further, other research shows that people who donate to charity feel wealthier.
"The results show that giving your time to others can make you feel more 'time affluent' and less time-constrained than wasting your time, spending it on yourself, or even getting a windfall of free time," said Mogliner.
While there are many benefits of community service, here are our top five:
Community service develops an increased sense of social responsibility – a global view of society and a heart for 'giving back' and helping others.
Provides an opportunity to apply academic learning to real life events.
Builds relationships and 'social connectedness' with peers and adults, and exposes students to diversity and multiculturalism.
Improves lifelong communication, interpersonal and critical thinking skills.
Helps students find their passions and interests that may lead to a career choice they may have not considered.
Community service is an essential way for students to explore their interests, show what they believe in, and define a possible career path. By engaging in volunteer work, students have an opportunity to learn experientially. They discover where their passions lie while undertaking 'feel good' projects that truly make a difference. These experiences allow them to make more informed choices about university and their career, while instilling a lifelong interest in giving back.
More than this, community service is a form of 'muscular Christianity'. As an Anglican school in tradition, serving God and serving others is vitally important. Service activities help share the message of God's love in a practical way.
Esperance Anglican Community School is dedicated to developing people of character with a strong sense of identity and a passion for learning who will become great contributors to the region and beyond.
There are many opportunities for students at Esperance Anglican Community School to participate in community service.
If you'd like to learn more about the learning opportunities at EACS, download our Prospectus.