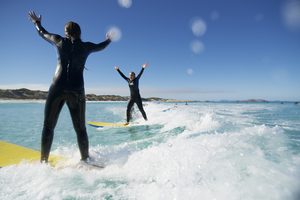 The benefits of outdoor education
Each year at EACS, we host the School's beach carnival. Unique to EACS, students participate in a range of beach activities, including: swimming and rescue races; tug-of-war; beach running races; team building exercises; sand sculpting and much more.
Following the success of this year's beach carnival, we look at the benefits of outdoor education.
Imagination and enthusiasm are heightened. Outdoor education is generally interactive which inspires imagination and unlocks creativity. Students become more enthusiastic and engaged in their learning, thereby raising student achievement in core academic areas.
Learning transcends the classroom. It allows students to apply their learning to the real world.
Critical and creative thinking skills are enhanced. Outdoor education challenges students to investigate how and why things happen.
Supports perspective thinking. It encourages students to think in more ways than one about a particular issue/situation to fully understand it.
Interdisciplinary learning. Outdoor learning can facilitate further learning in science, math, language, arts, history, and more.
Fosters respect. By exposing students to nature and allowing them to learn and play outside, outdoor education fosters sensitivity, appreciation, and respect for the environment, and it's fun.
Encourages a healthy lifestyle. It gets students outside and active, and helps address some of the health issues we are seeing in children today, such as obesity, attention deficit disorders, and depression. Good nutrition is often emphasised and stress is reduced due to increased time spent in nature.
Communities are strengthened. It promotes a sense of place and connection through community involvement.
At EACS, we offer a wide range of activities and experiences so that each and every student can find something to excel at. To find out more about how our experienced and enthusiastic team encourage and inspire students to reach their full academic potential. sign up to our enewsletter.