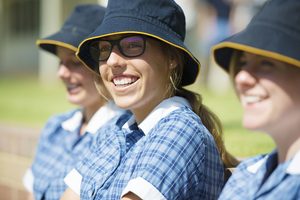 The role of the outdoor classroom in education
Technology is advancing faster than ever before and that means our students are finding themselves in front of screens at an ever-increasing rate. While the benefits of new technology are significant, the role of the great outdoors should not be forgotten. Tourists from around the world flock to Esperance for its natural beauty and wonder, so it only makes sense that we make the most of the wondrous creation that surrounds us.
We have talked a lot about the benefits of outdoor education. When lessons are held outdoors, we see that students' behaviour improves and they are more excited to learn. Individuals who may feel less comfortable in the classroom often thrive in an outdoor environment and research confirms that outdoor education enhances brain function.
Here we look at the role of the outdoor classroom in education:
Provides health benefits
The outdoors should not be kept only for sports classes. Getting out of the classroom and into nature means more opportunity for physically active lessons that involve movement and exercise.
Encourages personal and social development
When the confines of the classroom are removed, students are introduced to new situations and challenges. Student-to-student and student-to-teacher interactions are no longer bound to the confines of the classroom. With these new challenges comes new opportunities for growing social skills.
Boosts creativity and imagination
The outdoors are full of exciting new discoveries and opportunities to awaken the imagination. You will be surprised at the creative things students might come out with when presented with new experiences.
Provides more opportunities to appreciate God's creation
Spending more time in nature will help young people to appreciate the wonderful beauty and complexity of God's creation. A greater appreciation for God's creation encourages a greater love for the He who made it.
Source of fun
No one ever said that learning had to be boring. Taking the classroom outside is fun and exciting for students as it's a change to their normal learning environment and provides students with opportunities for new discoveries.
Shows application of learning
Taking the classroom outside can provide new opportunities to show real world applications of what they are learning. Concepts and models from learning have real-world use when given relevant context. This can encourage students to take their classes more seriously and help motivate their efforts.
More engaging
With new experiences and opportunities comes greater engagement and hence better learning and retention. And since your outdoor classroom is more engaging, your students will be more motivated to put in effort and help their own learning.
Taking your classroom outside is more than just keeping young people active, you are expanding your students' knowledge and experience of the wonderfully created world around. The outdoors offers so many opportunities that the confines of the classroom cannot give and provides the context for real, engaging, experiential learning.
To learn more about Esperance Anglican Community School and keep up to date with our latest news, sign up to our enewsletter.