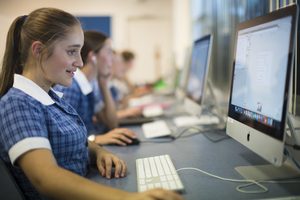 How to talk about cyberbullying with your child
From 2004 to 2016, 28 percent of students between the ages of 11 and 15 have been cyberbullied, according to research. This includes children who have been threatened online, had rumours spread about them, or experienced mean and hurtful comments or pictures of them online.
By discussing cyberbullying with your child, you can prepare them for this serious issue if it were to ever happen to them. We also recommend making your child aware of what cyberbullying is so that they do not engage in this type of activity on anyone else.
Here are some suggestions of how to talk about cyberbullying with your child:
Discuss it. Talk to your child about what he/she knows about cyberbullying and the rise in it. Perhaps there is a topical case in the media that you could use as a conversation starter.
Assure your child that they can come and talk to you if they feel they are being bullied, or they are somewhat responsible for it happening to another child, and that whatever they tell you is in the strictest of confidence. If it gets out of hand, explain to your child that you need to intervene and why.
Have rules. Every home should have cyber rules for the usage of technology. Make sure your children are aware of the appropriate amount of screen time, as well as online etiquette – what's inappropriate and how real life can be impacted by what happens online and their actions.
Explain that you are trusting your child to respect the rules; that technology is a privilege that must be handled responsibly and can be revoked. Breaking rules has consequences – there are laws against cyberbullying.
Safety first. Discuss how important cyber safety is. Install security software together so they are aware of the lengths you go to keep the family safe online. Encourage your children to block and ignore people who send hateful messages.
Let your child know that you are always in their corner and understand that there are two sides to every story, and that they should never be ashamed if they are a victim of cyberbullying. Like bullying, it is the cyberbullies who should be ashamed. Encourage your child to tell you if he/she thinks another child may be being bullied online.
Be solution focused.

There is a solution to every problem. While cyberbullying is serious, if your child becomes a victim, address it and move on. Encourage your child to return normal life and activities.
To find out more about technology and its use, or how our experienced and enthusiastic team encourage and inspire students to reach their full academic potential and to become the best they can be, sign up to our enewsletter.