Dear Parents and Carers,
The week ends with two very positive pieces of information about our School, which I must share with you.
Registration
The first bit of good news is that the registration inspector, with whom my colleagues and I spoke at the end of last week, were more than satisfied with the documentation that we provided and the conversations we had to support this. As a consequence, they do not propose to pay us a visit. The next step is for their report to be submitted to the Department of Education for their review panel to decide on the registration period to be granted. As you can imagine we are very pleased with this news!
Parent Satisfaction Survey
We are also pleased with the report of the recent satisfaction survey that many of you completed. Although the full report will be available on the website next week I can reveal that, again, we exceeded all the national means for the different elements of the survey as shown in the summary below. In addition, the levels of satisfaction being expressed are at the highest level since we started this process in 2014, which is all most encouraging.
Of course, there are always aspects which we could do more effectively and we shall be reviewing the very helpful comments we received, along with assessing the data, to address these areas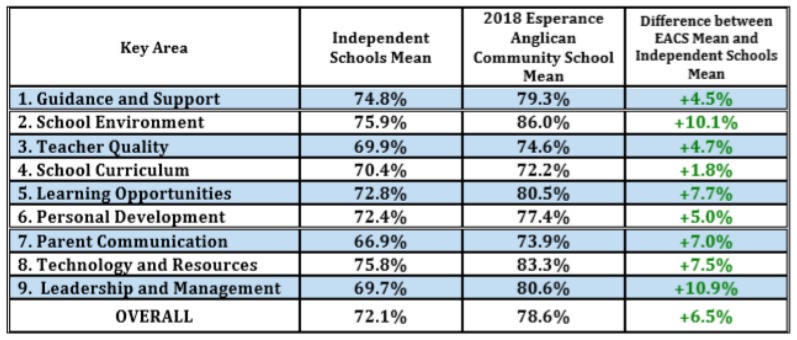 Your school's Top Strenghts (compared with benchmark)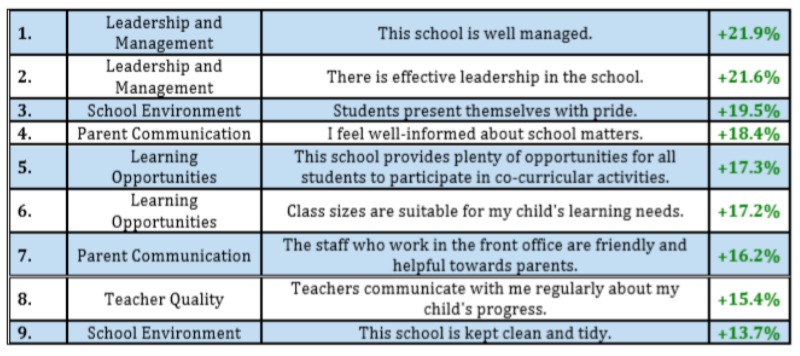 Counselling
I have had a generous offer from one of our teachers, Mr Geoff Usher, to add to our counselling services by offering biblical counselling for which he has been trained. He would plan to offer his services on a Monday and/or Thursday afternoon in the weeks when Candy Toll, our current counsellor is not in School. This form of counselling encourages participants to view and interpret life's event and problems through basic worldview questions:
Who are we? What is the nature of the world in which we live?
Who are we? What is a human being?
What is wrong? Why is the world in such a mess?
What is the remedy? How can these problems be solved?
The answer to such questions will help orient our beliefs, emotions and everyday decisions towards the plans and working of God in our lives.
If you would like your child to speak with Mr Usher please contact Reception to complete the usual counselling permission form.
Early Departure from the School
A gentle reminder that all students, regardless of year group or means of travel, are required to have parental permission to leave the School before the end of the day. Having obtained such permission they must also sign-out at Reception before they leave
OLNA - Round 2
Round 2 testing commences next week according to the following schedule:
27 August - Period 1 in D4 OLNA Writing
28 August - Period 1 in D4 OLNA Reading
29 August - Period 1 in D4 OLNA Numeracy
I append below details of the SCSA practice website to assist students with their final revision preparations, which will complement the work done by Mr Clark and teachers:
Web address: assess.scsa.wa.edu.au
Username: 1481
Password: prac14
Forthcoming Events
As always, I append a few key dates to remind you of what is going on in the weeks ahead, although I do try and keep the calendar as up-to-date as possible.
Week 7
Monday 27th to Wednesday 29th – OLNA testing for selected candidates
Wednesday 29th August – free-dress day in aid of drought relief for farmers in NSW (organised by Year 9)
Friday 31st – 1130 Civic Service for Revd Doug Murray – School Band and Choir participating
And further ahead…
3rd to 7th September – Year 12 Rottnest Island Outdoor Ed Camp
Tuesday 4th – 1715 PFA Meeting at School
Wednesday 5th – 1800 ASC Schools Week Eucharist at St.George's Cathedral in Perth
Friday 7th – 1900 ASC Schools Week Concert in Perth Concert Hall
12th September – Inter-house Athletics Carnival
18th September – Girls' AFL competition
With every good wish for the weekend.
Yours sincerely,

P. Kerr Fulton-Peebles
Principal