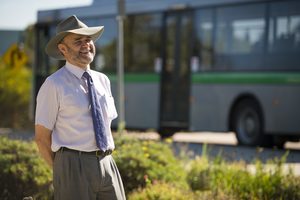 2018: A Year in Review
2018 has been another amazing year for EACS. After starting the year with the wonderful news of our best ever ATAR results, 2018 continued to provide highlight after highlight. The year also brought to pass a huge milestone, the 10th Anniversary of the foundation of our School! After 10 years of serving the community, EACS continues to show that we have a lot to celebrate.
Some great examples of this year's highlights include:
winning the Interschool Chess Congress
introducing our new specialist programmes in netball and tennis
NAPLAN and OLNA results also continued their favourable trends, with significant improvements noted from previous years.
As we celebrate the achievements of EACS this year, we must also recognise the life of a man integral to the foundation of our School. It is with great sadness that we remember the passing of the Reverend Doug Murray. His work for the School was honoured across Church and civic services and will never be forgotten.
Earlier on in the year, we were busy with preparations for re-registration as an educational provider. This was due to involve a visit by representatives of the Department of Education late in Term 2, but due to the high quality of our paperwork, this visit was deemed unnecessary. The Department awarded us the maximum period of registration of five years, a delightful result!
Looking forward to the future of the School, a planning seminar was held to affirm the School's vision and goals for the next 10 years. The School stakeholders who took part included students, parents, staff and School Council members. We have also created a new 10-Year Financial Plan, ensuring the future financial viability of the School. A new Parent Handbook, Homework Policy and Alumni nurturing campaign have also been created.
The Parents and Friends Association organised the sale of inscribed paving bricks to celebrate the 10th Anniversary of the foundation of the School. These were laid under the new shade pavilion and paid for, in part, by the PFA. The PFA also held an inaugural thank you dinner with the Principal, a tradition that will now take place annually.
EACS also formalised the organisation of our community service programmes with the appointment of a staff member to co-ordinate this effort. We are pleased to say that this community service programme resulted in many different student-led charity fundraising events, with a rough estimate of $10,000 raised.
2018 saw some major landscaping works completed across the School with very pleasing results. We held a pleasant outdoor opening ceremony and supper, with music generously supplied by our school bands.
The Big Picture Progamme was extended from Year 10 into Years 9, 11 and 12. This was an important step forward for the School, with six students in Year 12 completing the Big Picture Graduation portfolio to the standard required of universities for portfolio entrance. Ten additional members of staff have also been trained in the Big Picture design this year, creating more opportunities for Big Picture learning for our students.
Our approach to managing student behaviour was also overhauled with the introduction of our 'Good Standing' policy. It is designed to be clearer about what is expected from students whilst reinforcing and recognising the positive aspects of their behaviour. This has had a noticeably positive effect on behaviour – which was already of a decent standard – with far fewer detentions and other disciplinary incidents, and many more commendations being awarded.
Many students also enjoyed one or more of our amazing camps throughout the year. These camps included:
Years 10 to 12 Perth International Arts Festival Camp
Years 7 and 8 Outdoor Education Camp in Margaret River
Year 9 Canberra Camp
Music Camp to coincide with the ASC Biennial Concert
Outdoor Education expeditions for Years 11 and 12
2018 was a varied and fulfilling year which has shown the School to good effect. Ten years since our foundation, we are a well-established, attractive community which can stand up to very favourable comparison with schools across the country, and a more-than-viable alternative to the local senior high school. We thank all students, staff and parents for their efforts this past year, and look forward to another great year to come.
If you would like to keep up-to-date with more school news, subscribe to our newsletter.