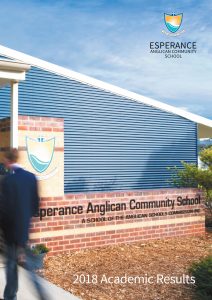 EACS students bound for success
Esperance Anglican Community School's 2018 academic results demonstrate that the School continues to inspire academic excellence amongst its students, with outstanding results in both the WACE examinations and Big Picture Programme.
EACS students achieved impressive results across the board, with a number of outstanding achievements:
16 percent of ATAR students gained an ATAR of 90 or above (up 4 percent from 2017)
50 percent of ATAR students gained an ATAR of 80 or above (up 30 percent from 2017)
67 percent of ATAR students gained an ATAR of 70 or above (up 43 percent from 2017).
"We are thrilled for our Class of 2018 and congratulate them on their outstanding achievements," said Principal, Mr Kerr Fulton-Peebles.
A stand-out performer was Riley Greatrex who achieved a score of 93.60 and is set to embark on an Engineering degree at The University of Western Australia.
"I appreciated the small class sizes as it meant I had more attention from the teachers and the overall welcoming community at EACS. I feel like I have grown in many ways as a person throughout my time at EACS – maturity, intelligence and values," Riley explained.
Another stand-out performer was Kassidy Topping who achieved a score of 93.10. Kassidy will continue study at Curtin University in the area of Screen Arts and Design.
"I was happy building a close community within our entire year group, achieving good grades and experiencing the gratitude of friends. I feel that I have grown in confidence, sociability, intellect and humour. I have the strength and ability to face the wider world and the belief that I can achieve great things. I would like to be remembered as the guy who encouraged people to be kind to one another, to live without being selfish," Kassidy said.
Mr Fulton-Peebles said educating the whole person is at the heart of Esperance Anglican Community School's educational philosophy.
"It is pleasing to see so many of our students achieve personal excellence. We are impressed with the way our students have worked hard to achieve their goals and they should be enormously proud of their achievements. I wish every one of our graduates success as they embark on their future," he said.
"We are so pleased that our broad and balanced approach to education, which does not force students down particular pathways at an early stage, has been vindicated in these outstanding results. EACS has a non-selective approach to ATAR. Our entire ATAR cohort has achieved results that, should they wish, will allow them to study at university, with 50 percent being able to study at The University of Western Australia. These pleasing results are also a testament to the skill and dedication of the teaching staff and to the application of the students," Mr Fulton-Peebles explained.
EACS offers a stimulating and challenging academic programme, providing students with a choice of education programmes to cater for different student needs and interests. Students can choose from WACE or vocational pathways or participate in the School's unique Big Picture Programme.
"As our students progress to post-secondary education and vocation, we wish them well," Mr Fulton-Peebles said.
About EACS
Esperance Anglican Community School is a co-educational school for day and boarding students in Years 7 to 12. Located in the heart of town, students can pursue a wide range of academic and co-curricular pursuits.
We focus on educating the whole person – in mind, body and spirit – as a unique individual with their own talents and capabilities.
Too see more impressive results and read about the success of the EACS graduating cohort, download our 2018 Academics Results brochure.