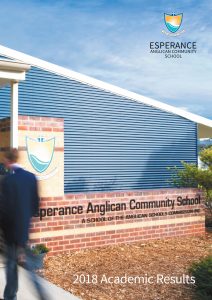 Big Picture success for EACS students
Esperance Anglican Community School's first Big Picture Programme graduates have achieved outstanding results, with a number of students offered places at university.
EACS graduates achieved impressive results overall, with a number of outstanding achievements:
100 percent of Big Picture students were accepted to university.
100 percent of Big Picture students received their first round preference.
"We are thrilled for our first ever Big Picture graduates and congratulate them on their outstanding achievements," said Principal, Mr Kerr Fulton-Peebles.
EACS offers a stimulating and challenging academic programme, providing students with a choice of education programmes to cater for different student needs and interests. Students can choose from WACE or vocational pathways or participate in the School's unique Big Picture Programme.
The Big Picture Programme provides a personalised approach to education that combines academic work with real-world learning. Students create a learning plan that is based on their own passions and interests and can lead to university entrance, post-secondary education or employment.
"This year's results demonstrate that there is more than one way of achieving academic excellence. As our students progress to post-secondary education and vocation, we wish them well," Mr Fulton-Peebles said.
About EACS
Esperance Anglican Community School is a co-educational school for day and boarding students in Years 7 to 12. Located in the heart of town, students can pursue a wide range of academic and co-curricular pursuits.
We focus on educating the whole person – in mind, body and spirit – as a unique individual with their own talents and capabilities.
Too see more impressive results and read about the success of the EACS graduating cohort, download our 2018 Academics Results brochure.