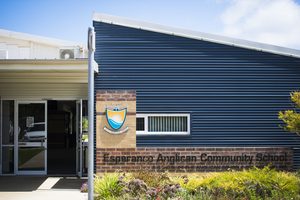 Reflections on 2018 from our Head Boy and Girl
We have reached the end of 2018 and the end of five years of schooling for our Year 12s. We have been privileged enough to have had two excellent examples of leadership in our Head Boy and Head Girl, Harrison Tobin and Darby Smith.
Harrison and Darby reflect on their time spent at EACS, including the great sense of community they experienced and the amazing friendships they formed at the School.
"EACS was a special place which made us feel part of a real community, where making genuine friendships was easy. We had a really tight-knit year group and the friendships we developed will probably last a lifetime – we hope so!"
The EACS teachers have also played an important role in not just the classroom education of the Year 12s but also their development into responsible young adults.
"The teachers were so supportive and provided a wide range of opportunities to help us grow and develop as people. Thanks for some awesome times!"
Harrison and Darby agree that their leadership roles provided great opportunities for them to have a positive influence on the School and the events throughout the year.
"The privilege of being a leader in the School was a special feature of Year 12, as we had the chance to play important roles in the life of the School. So Drama, Country Week sport, Volleyball, the Beach Carnival, Cross Country running, the Ball and the Yearbook were all real highlights for us."
"Free-dress days really gave us a chance to get amongst it and really show another side of our characters (some more so than others)."
As well as the great educational and Co-Curricular opportunities EACS has provided, the students have also been encouraged to think more broadly and openly.
"EACS has done a great job in encouraging us to think 'outside the box' and helped us to realise that the 'sky is the limit'. Perhaps we should remember that commitment to studies, especially as you get older, is important in ensuring that you don't fall behind and get overwhelmed. Being confident enough to ask teachers for help is also good advice."
"Thank you EACS for the wicked memories shared and friendships made!"
At EACS, we are committed to promoting high standards in all that we do through positive, proactive encouragement. We could not be prouder of this year's student leaders, who led with honour and integrity. We wish them, and the entire graduating cohort, every success in the future.
As a school, we offer a wide range of activities and experiences to our students. To find out more about how our experienced and enthusiastic team encourage and inspire students to reach their full academic potential, sign up to our enewsletter.