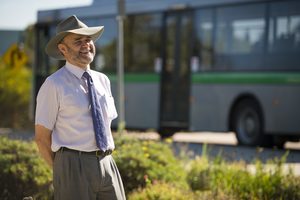 Warm greetings from Esperance Anglican Community School, as we start another School year. I hope you have had a relaxing and restorative time over the summer break.
We began the Term with our staff service, held by the shore on Twilight Beach on a glorious summer's morning, which was followed by a litter-pick of the beach and path. We felt that this was a very real demonstration of the School's commitment to community service, as well as a recognition that we have a responsibility to our wider world. In a very real sense, we were echoing the sentiments of St Francis of Assisi when he spoke of the need to be aware of the ecology of the entire world. As Pope Francis commented in his Laudato Si "He was a mystic and a pilgrim who lived in simplicity and in wonderful harmony with God, with others, with nature and with himself. He shows us just how inseparable the bond is between concern for nature, justice for the poor, commitment to society, and interior peace." We reflected that one of the great purposes in the education we espouse, is to educate our young people in a global context to echo such sentiments.
Our service concluded with a prayer, from Pope Francis, which demonstrates the wish to teach in the context of a global ecology:
"All-powerful God, you are present in the whole universe and in the smallest of your creatures. You embrace with your tenderness all that exists. Pour out upon us the power of your love, that we may protect life and beauty. Fill us with peace, that we may live as brothers and sisters, harming no one. O God of the poor, help us to rescue the abandoned and forgotten of this earth, so precious in your eyes. Bring healing to our lives, that we may protect the world and not prey on it, that we may sow beauty, not pollution and destruction. Touch the hearts of those who look only for gain at the expense of the poor and the earth. Teach us to discover the worth of each thing, to be filled with awe and contemplation, to recognise that we are profoundly united with every creature as we journey towards your infinite light. We thank you for being with us each day. Encourage us, we pray, in our struggle for justice, love and peace."
A significant challenge admittedly but one worthy of our efforts in what I hope will be a fulfilling and enjoyable year for our School community.
If you would like to know more about Esperance Anglican Community School, sign up to our newsletter.