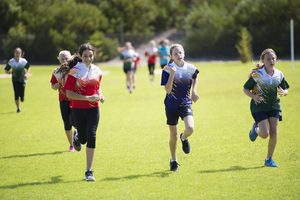 How to become a physically active family.
Getting enough physical activity as a family is often seen to be difficult and always out of reach. The kids have homework to do, parents are busy with work and other duties and exercise can become an evasive ideal, let alone a regular part of the family routine. Physical activity can become a part of your normal routine and benefit your lifestyle. Increasing your physical activity as a family doesn't have to mean huge amounts of time set aside for exercise.
Here are 6 ways to become a physically active family:
Use a wall planner
If you schedule in intentional time to be physically active as a family, display it clearly on a wall planner or calendar. No-one has any excuses if it's on the fridge or a cupboard in plain sight. If you can stick to using the planner consistently for one month, you have more than likely created a good habit and physical activity can become part of your routine.
Make a weekend meal a picnic
By taking a meal to a park on a weekend or early weeknight evening, you are taking your family away from screens and out into the open. Picnic areas might have a playground or just some grass, either way, there is room for the kids to run around and kick a football.
Find an activity you all love
People will always be more motivated to do something they enjoy over something they don't. Finding a family activity that everyone loves will always be met with less opposition and greater engagement, giving better results.
Walk or ride short trips
Living in Esperance means that there are a lot of short trips around town and these are perfect opportunities to walk or ride a bike. Consistently doing small amounts of exercise through commuting adds up to a lot of exercise.
Reward good behaviour
In a perfect world we would all be intrinsically motivated to stay healthy but that is unfortunately not the case. Some positive external motivation can go a long way in creating good family exercise habits. However, it is important to match the reward with the effort applied.
Attend events in the community
Getting out and about in the community is not only great for your family's community involvement, but it often means getting outdoors and into nature. The advantages of community involvement also extend well past the opportunities for getting exercise.
Becoming a physically active family won't happen overnight, but by starting with small changes and slowly implementing them into your routine, your family can enjoy the benefits of a healthier lifestyle. For If you want to learn more about EACS, sign up to our eNewsletter.