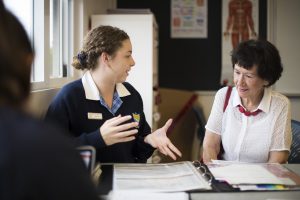 We all need guidance throughout our lives. Arguably, teenagers need more support during these undoubtedly impressionable and challenging years. Adolescence marks the transformation from childhood to adulthood and is often a time of discovery and steep learning curves. Lack of guidance through these formative years can be detrimental to the development of your teen.
Here are 4 reasons why it's important for your teenager to have a mentor:
They may not always want to open up to you
Teenagers need mentors other than their parents. As difficult as this may be for parents, some teens need other role models to talk to. As much as we want our kids to feel like they can talk to us about anything, it just might be easier for them to open up on certain topics to someone else. Maybe they are worried you will berate them or be overly disappointed, as it can be difficult to remove emotions from the conversation when we are so close.
It takes a village
As the saying goes, "it takes a village to raise a child". This is just as relevant for teens as it is for young children. As parents, you are the most important people in your teen's development journey. But you are not alone. Having a dedicated mentor whom you trust to guide your teenager faithfully can be very advantageous to the growth of your teen.
New context
An interested third party who will be a positive influence on your teen can offer advice from a new context and set of experiences. This non-parental mentor can also expose new ideas or opinions. Everyone's context is different to some extent, and it might be a slightly different approach or opinion that helps your teen come to their own conclusions on a topic or solve a problem.
More likely to listen to others
Another reality that parents may be all too familiar with is the problem of your teenager not listening to your advice, simply because it comes from you. If a mentor gives the same advice as a parent, your teen isn't just more likely to accept it, but will be more likely to accept your advice in the future. Your teen's mentor can give you more credibility.
It is important to clarify that this mentor must be someone that your teen respects and looks up to. This mentor could be a relative, teacher, sports coach, youth leader, church leader, boss, family-friend or any other person of influence in your teen's life. The more naturally occurring this mentor is, the more likely your teen will respond to their guidance.
The Big Picture Programme makes effective use of mentors as part of the participant's learning. A mentor from the community that works in the area of the participant's interest is chosen to assist them in their learning. The student sees the mentor one day a week across the period of the project. In this time, the student:
Gains hands-on experience and knowledge from the mentor in their area of interest
Receives assistance in the completion of their BPP project
Builds their network in their area of interest.
Everyone needs guidance sometimes, teenagers especially. A good mentor can provide that guidance for your teenager and speak wisdom and advice into their life.
If you would like to know more about EACS and visit our beautiful school, register for our Open Morning.