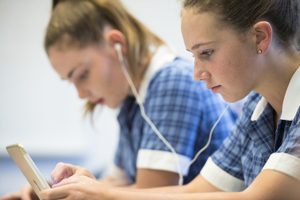 We live in a digitally and socially-connected age, now more than ever. According to the latest report by the Australian Bureau of Statistics, 91 percent of Australian teenagers aged 15 to 19 are using social media, with some spending up to 18 hours each week online.
An increase in technology use has impacted on the lives of children – it has allowed them to stay connected to friends and family; as a platform to share ideas, music and art, it has enhanced creativity; and has enabled adolescents to meet and interact with others who share similar interests.
Despite teens' digital literacy and proficiency, parents still need to help them navigate life in a digital age in a safe and healthy way. Here are five simple ways to make social media safer for teenagers:
Encourage kindness and consideration
Teach your child to treat other people respectfully. This is just as important online as it is in the physical world. Social media users can remain relatively anonymous, which makes it easy to be careless about the content that is being posted. Encourage your children to avoid posting anything that could be hurtful or embarrassing to others. Ask them how they would feel if the same post was targeted at them. Encourage children not to be proponents of cyberbullying, and to report these instances when it takes place.
Think twice before hitting 'send'
A survey from the Pew Research Center

found that teenagers are sharing more information about themselves on social media than ever before. For the safety of your child and those around them, remind them to avoid posting specific locations of events, as well as phone numbers and other personal details.

What is posted on social media can be used against them. Teach your teenager avoid posting anything that they wouldn't want their teachers, university admissions officers or future employers to see.
Use privacy settings
Maximising privacy settings is a great way to make social media safe. Work together with your child to ensure that strong passwords are put in place and that posts are not accessible to the public. If an account does get hacked, be sure that all of your teen's passwords are changed to avoid further damage.
Don't accept strangers
"If you don't know them, don't friend them," is a good rule of thumb. Without overstepping healthy boundaries, ensure that you know who your teen is interacting with. Though there is a fine line between safety and spying, parents and children must agree on some guidelines that work best for them. Ensure your child knows that by accepting friends means they're giving them access to their personal information, photos, friends list and posts. It's a good idea to update privacy settings

regularly.
Lay the ground rules
Consider making a social media agreement with your teen – potentially even a real contract they can sign. In this, they must agree to protect their own privacy, consider their reputation, and not give out personal information. They must also promise not to use social media in a harmful way. In turn, as parents you should agree to respect your teens' privacy, but also keep them grounded in the real world by putting limits on social media use

– keep computers in public areas, avoid laptops and smartphones in bedrooms, and ensure no devices are present at the dinner table.
Adolescence is a time of transition, and for children, we naturally see an increase in media use. Parent involvement is essential to ensure children are safe, supported and equipped to deal with the ever-changing risks and opportunities technology offers.
To learn more about EACS and keep up-to-date with the latest parenting tips for raising healthy teenagers, sign up to our eNewsletter.