Dear Parents and Carers,
Welcome back to my 'Comment' after a gap caused by my attendance at the Annual ASC Retreat for Principals and Senior Staff (which Mr Iain Clark also attended).
Country Week
Preparations are being finalised for the journey to Perth for this festival of sport, which takes place in Week 10: we are taking six staff and 46 students to play games in basketball, netball, hockey and volleyball, with dance also featuring. If you have a child taking part, please make sure that all payments are up-to-date before departure.
Cross Country
The sporting theme was also to the fore in the annual inter-House Cross Country Championships, which were organised superbly by Ms Tian Della Vedova. We again ran (sic) the course through the School grounds which proved to be ideal, not least because we were able to avoid the bad weather that arrived at the end of proceedings. Wood House triumphed but the full table of results is appended at the end of this comment. The success of this event augurs well for the inter-Schools event which takes place next Friday, 21st June, also on the School site.
Junior Boys' AFL
It was good to hear of the enthusiastic participation of our Year 8 and 9 boys in the football carnival held at the High School. Although we did not win any of our three matches they were all closely contested. Congratulations are due to Regan Mott who received the Most Valuable Player Award.
Staff News
I am delighted to announce that, at long last, the School will have a part-time Chaplain in the shape of the Reverend Brett Guthrie, who is to become Priest-in-Charge at St. Andrew's Church. It is expected that Reverend Guthrie will devote the equivalent of one day per week to the School, starting in Term 3. A number of staff, together with the Head Girl and Head Boy, will attend his commissioning on Sunday 23rd June to demonstrate our support of Reverend Guthrie as a key part of the worshipping Anglican community in Esperance.
Forthcoming Events
As always these are noted in the calendar, and reminders appear in Brekkie Bytes, but pour mémoire:
Week 8
Monday 17th – 0850 Assembly with talk about the Samoan service learning trip
Tuesday 18th – Free Dress day for Samoan service learning trip (usual rules apply)
Wednesday 19th -Duke of Edinburgh Programme Manager visit - Level 2 Training - 1000 School Council meeting
Thursday 20th – 0930 to 1100 Open Morning at the School
Friday 21st – Inter-school Cross Country relays at EACS 1800 Mr Kerr's Farewell at EACS (RSVPs essential)
Week 9
Sunday 23rd - 1830 Revd Brett Guthrie's Commissioning (Anglican Parish Church)
Monday 24th – 1530 Sports Scholarship assessments
Tuesday 25th – 0845 to 0910 - St Thomas More College (UWA) presentation to Year 11/12 ATAR students
Wednesday 26th - 1530 - 1800 - Year 10 Parent-Teacher meetings- 1800 Year 10 Big Picture dinner
Thursday 27th - Year 10 needles
Saturday 29th - Country Week teams depart
Week 10
Monday 1st to Friday 5th July - Country Week (Perth)
Tuesday 2nd – Scholarship tests and interviews
Friday 5th - Last day of term for all students
Monday 22nd to Tuesday 30th - Year 9 Canberra Camp
Term 3
Monday 22nd July Staff professional development day STUDENT FREE DAY
Tuesday 23rd July 0840 School resumes for all students
I do hope that the weekend will go well.
With every good wish.
Yours sincerely,

P. Kerr Fulton-Peebles
Principal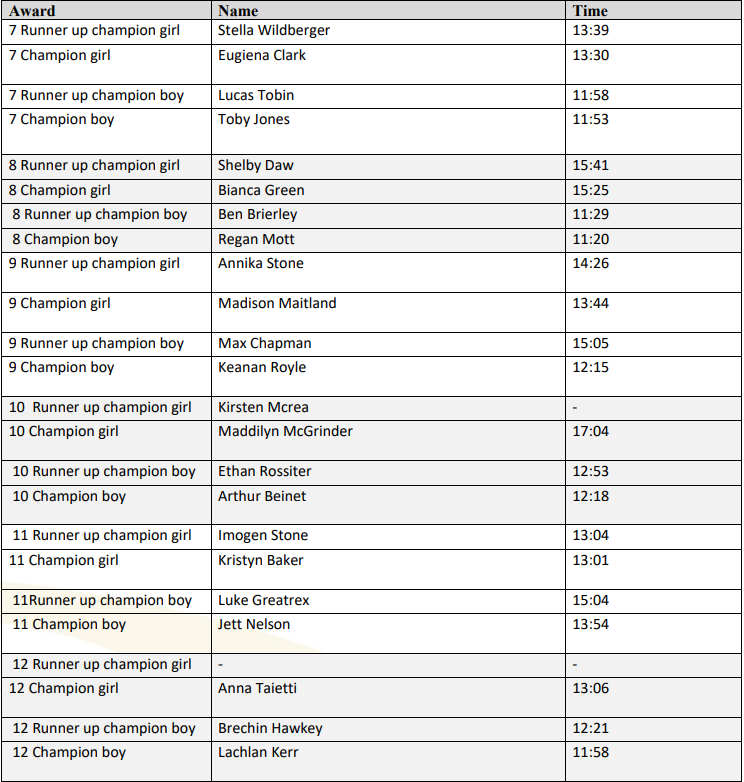 Top 6 Fastest Girls Years 7/8/ 9
Top 6 Fastest Boys Years 7/8/ 9