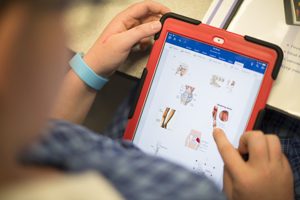 It's no surprise to hear that children today benefit from access to technology and software and that this has revolutionised education. However, the challenge in this highly digitised world is that there are far too many options to choose from. With over 80,000 apps listed as 'educational' in Apple's App Store alone, it's a minefield for parents to know which educational apps can help learning. Thankfully, we've narrowed down the list to make it easier for parents.
Here are five educational apps that can help with your child's learning:
Duolingo
This popular app provides students with a fun, effective and easy-to-use platform to learn a foreign language. It has an intuitive and engaging interface and this helps students to learn a large variety of languages. Through diligent and consistent use of the app (measured as a user's Duolingo 'streak') and in-lesson grading, students are able to track their own progress. Duolingo is aimed at children 13 years and older.
Google Earth
Using satellite images from all over the world, this web-based app allows your child to explore the world without stepping out the door. Users are able to search for famous landmarks, geographical features, and even your home address. Your child can discover all of the great resources available through Google Earth Education

which will open up the world to them and spark the inner explorer within.

There are many ways you can keep your child engaged in this app. Do you have a holiday coming up? You can explore the places you'll be visiting, its history and the different ways to get there. Is your child reading a book? Have them search the country or even the city the book is set in and explore its geographical setting.
Khan Academy
Khan Academy is a very useful supplement to classroom instruction and discussion. It is an innovative tool to keep students engaged inside and outside the classroom. The app challenges users to practise and master skills on their own, using hints and videos as support, rather than as the main source of instruction. Regardless of where a student's capability lies, this app is a rich resource for learning.
TED
Short for 'Technology, Education, Design', TED is a non-profit organisation dedicated to spreading intriguing and educational thoughts in short videos called 'TED Talks'. Offering a diverse range of subjects, from language, science, to global issues, this app will help to widen your child's perspective and learning on topics that aren't typically taught in the classroom.
Dictionary.com
With over two million definitions, synonyms and antonyms at hand, this app can help grow vocabulary. Dictionary.com

also offers features such as audio pronunciations, example sentences, word origin and history.
When it comes to educational apps, there are an abundance for parents to choose from and your child may look to you for guidance. Help them by navigating the different options to choose from in order to find the best educational app to match their learning needs and abilities. Websites such as Common Sense Media can help you filter various apps and make sure it's appropriate for your child.
To learn more about supporting your child's learning, sign up to our eNewsletter.