The 'IP' Address
TERM 3 WEEK 4 REFLECTIONS
ELECTIVES AT EACS
At EACS our elective program is a great way of introducing students to a diverse range of subjects, often previously unexplored. They provide an opportunity for a student to acquire new knowledge and skills and in doing so develop an interest or indeed a passion for a particular aspect of the curriculum which can lead to rewarding senior secondary and post school pathways.
In Year 7&8 students participate in 13 week 'taster' electives, which then transitions into students making 'choice' electives in years 9&10, either on a semester or yearlong basis. All electives, depending on levels of student interest and engagement, have the potential to be studied at a Western Australian Certificate of Education (WACE) level across years 11 and 12, although the feasibility and viability of courses running must first be ascertained.
The following table provides a flowchart of feasible study options tracking through the 7-10 elective structure and into year 11 and 12 WACE pathways: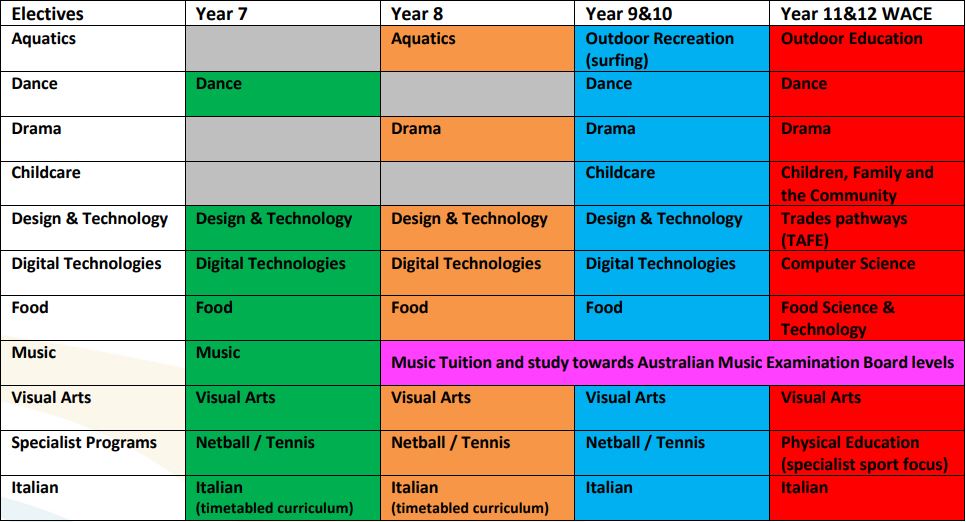 Over the years there have been numerous examples of students commencing taster electives in year 7 who have continued successfully through to year 12 at both ATAR and GENERAL levels of study.
Furthermore, the co-curricular opportunities that present to students through their engagement in electives gives them the confidence and wherewithal to showcase their talents and abilities, working within established timelines towards set goals and targets.
Two examples of co-curricular participation, driven by a passion for a particular aspect of the elective curriculum, includes the upcoming Esperance Music Festival and recently completed Albany Interschool Surfing competition. From little things big things can grow and I sincerely hope that the see planted through our elective programs gives students the opportunity to grow and flourish as capable young adults of tomorrow.
Esperance Music Festival
The Esperance Music Festival extends from next Thursday 22-24 July at the Civic Centre. Dedicated students who will be representing their school with great distinction at this event, playing their hearts out for the delight of the audience, are:
Thursday 22.08.19 1300hrs
ITEM 91 (1): Windforce (Pearl Mitchell, Maddy Fox, Maddy Maitland, Mikaela Muir and Layne Varea)
ITEM 91 (2): Bianca Greene and Madeleine Fox
Thursday 22.08.19 1520hrs
ITEM 136 (2): Junior band
Thursday 22.08.19 1900hrs
ITEM 92 (1): The Saxons (Lachlan Kerr, Charlie Tate, Fletcher Podmore and Luke Burnside)
ITEM 92 (2): Allegro Strings (James Henderson, Sophie Garvey, Layne Varea)
ITEM 64 (1): Lachlan Kerr
Friday 23.08.19 1900hrs
ITEM 140 (1): EACS Stage band
Saturday 24.08.19 1030hrs
ITEM 60 (2): Lachlan Kerr
Saturday 24.08.19 1400hrs
Saturday 22.08.19 1900hrs
ITEM 138 (1): EACS Concert Band
ITEM 61 (1): Max Bosworth (Ex-student)
Albany Inter-school Surfing Competition
Last Friday the following students represented EACS at this event:
Year 8: – Ben Brierley, Eloise Fels, Laird Polkinghorne, Yasmin Nadason
Year 9: – Ben Murgatroyd, Lauren Ware
Year 10: – Jaxon Daw
The team achieved highly commendable results, which included:
3rd place – Overall (by only 1 point)
2nd place – Junior boys' body boarding (Ben Brierley and Ben Murgatroyd)
2nd place – Junior girls' body boarding (Eloise Fels and Yasmin Nadason)
2nd place – Junior boys' surfing (Ben Brierley and Ben Murgatroyd)
1st place – Junior girls' surfing (Lauren Ware and Yasmin Nadason)
Special accolades must go to Lauren Ware and Yasmin Nadason who, off the back of their results, have been selected to represent at the State Schools' Surfing Championships. A fantastic achievement, well done girls.
NOTICES
Photograph day
Just a reminder photo day is this Wednesday 21st August. All students must be in full winter uniform, stockings to be worn for girls. Country Week students should ensure that tracksuit top and bottom are brought to School. Year 12 students' blazers are to be worn and leavers jerseys to be brought for the graduation photo.
Schedule of photos is as follows:
0820 _ Staff
0840 _ Boarding students/staff
0900 _ Whole school
0930 _ Year 12
0940 _ Prefects
0950 _ Graduation
1010 _ Year 7
1030 _ Year 8
1050 _ Year 9
1130 _ Year 10
1150 _ Year 11
1305 _ Band
1330 _ Country Week teams
1415 _ Country Week group
Year 10 Directions and Decisions 2020
Our Year 10 Directions and Decisions subject selection process is well underway for 2020. A reminder that there will be a further (and final) open forum opportunity for parents to attend a Directions and Decisions Information evening this Tuesday 20th August from 1800hrs in DMP.
What's on this week (week 5)
Tuesday – Year 10 Parents Directions & Decisions evening 2020
Wednesday – School Photos day
Thursday – Esperance Music Festival
Friday – Esperance Music Festival
Saturday – Esperance Music Festival
What's on next week (week 6)
26 August – Mid-term break (school closed)
Further ahead
02 September – Year 7&8 Rotation 3 electives
2-6 September – OLNA Writing, Numeracy and Reading
2-6 September – Year 11/12 Outdoor Education Camp
06 September – Open Morning
7-14 September – Year 10/11 Careers Camp in Perth
17 September – 'Headspace' Schools Mental Health workshops (students & parents)
18 September – EACS Information Evening 1800hrs (Civic Centre)
19 September – Inter-house Athletics Carnival
27 September – Last day of Term
Best wishes for the week ahead.

Iain Clark
INTERIM PRINCIPAL