The 'IP' Address
TERM 3 WEEK 6 REFLECTIONS 🤔
Mental Health and Student Well-being
At a time when students are battling with a host of personal and social issues in their lives the incidence of mental health related problems in schools is on the rise.
The results of a recent survey of school Teachers and staff conducted by the Victorian branch of the Australian Education Union, suggest poor mental wellbeing among students is impacting on the wider classroom environment, with 80 per cent of respondents reporting that mental health-related issues had negatively affected student learning at their school.
Of the 3500 school Teachers and staff surveyed the percentage of teachers and staff who said a specific mental health issue had affected student wellbeing in their school are recorded below: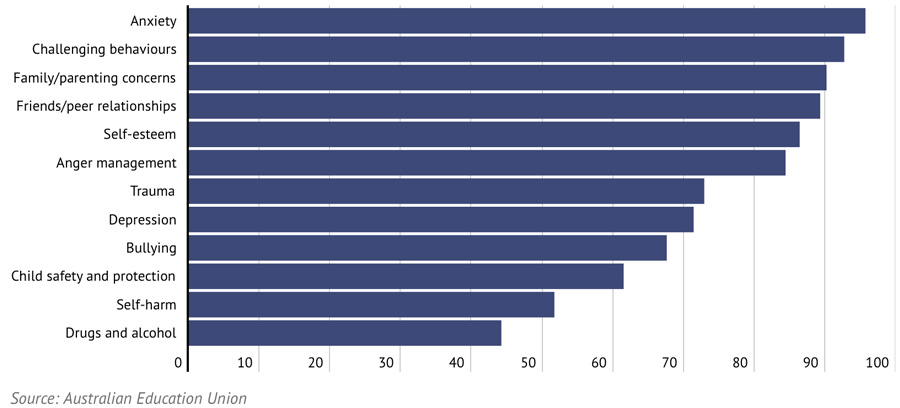 With such concerning and in some cases alarming statistics It is therefore of paramount importance that schools do everything in their power to provide the pastoral support services necessary to assist students in navigating the daily challenges that they encounter. This involves equipping students with knowledge and understanding to give them perspective on life as well as the tools and strategies to self-regulate their emotions and behaviours.
At EACS the first layer of pastoral 'wrap' commences at the start of each day with 30 minutes of dedicated pastoral care time or as we like to call it 'Advisory'. Each student is allocated to an Advisory group with an Advisory Tutor who is a staff member who, over time, develops a strong rapport and relationship with each child in their Advisory Group. The Advisory Tutor is the first port of call to assist the child and help resolve issues as and when they arise.
The second layer of pastoral 'wrap' is the Child Protection Curriculum: 'Keeping Safe' that is taught during Advisory throughout the year. The KS:CPC is predicated on two main themes which are presented through topics and activities of increasing complexity. The two KS:CPC Themes are:
Theme 1: We all have the right to be safe
Theme 2: We can help ourselves to be safe by talking to people we trust.
The two KS:CPC Themes are explored through four Focus Areas, which are examined in growing complexity in accordance with the age of the students. The four KS:CPC Focus Areas are:
Focus Area 1: The right to be safe
Focus Area 2: Relationships
Focus Area 3: Recognising and reporting abuse
Focus Area 4: Protective strategies
A third layer of pastoral 'wrap' for students is the internal and external support services (including curriculum) that students have access to depending on their point of need. Guidance, explicit instruction and mental and spiritual support is delivered via the following mediums:
Assembly and Chapel services
Religious Education classes
Chaplaincy focus groups
Psychologist appointments (fortnightly – Wednesdays)
Specialist incursions 'Headspace' Schools Mental Health workshops
As a school we recognise that we must remain proactive in seeking out ways to support students in the area of mental health and well-being. This will continue to be an important consideration and an area of focus as we plan ahead towards 2020.
NOTICES
Attendance
Great to see an uplift in overall attendance since my reflections last week. A great start towards the school target of 95% average attendance for the remainder of the year.

What's on this week (week 7)
Monday to Friday Year 11/12 Outdoor Ed Camp (Pemberton)
Monday Year 7&8 Rotation 3 electives
Monday OLNA Testing (Writing)
Tuesday OLNA Testing (Reading)
Wednesday OLNA Testing (Numeracy)
Thursday Spiritual focus groups with Father Brett
Thursday OLNA Catch up Testing _ (Reading & Numeracy)
Friday OLNA Catch up Testing _ (Reading & Numeracy)
Saturday Year 10/11 Careers Camp departs for Perth
What's on next week (week 8)
09-16 September Year 10/11 Careers Camp in Perth
11 September Sharon Southall (Psychologist) in school – appointments necessary
Further ahead
17 September 'Headspace' Schools Mental Health workshops (students & parents)
19 September Inter-house Athletics Carnival
27 September Last day of term 3
11 October Year 12 Mock WACE Exams commence (school holidays)
14 October Term 4 commences (all staff and students)
14-18 October Year 12 Mock WACE Exams continue (Year 12 study leave)
21-25 October Year 12 final week in school
Best wishes for the week ahead.

Iain Clark
INTERIM PRINCIPAL