The 'IP' Address
TERM 3 WEEK 7 REFLECTIONS 🤔
Staff Professional Development
As part of our professional responsibilities as teachers we must strive for continual improvement. One can never afford to be complacent, nor rest on one's laurels believing that things are 'humming' along perfectly. The ultimate goal of school improvement is to enhance student teaching and learning outcomes and with this in mind I would like to make mention of a number of staff professional development initiatives:
STELR
On Tuesday 27 August our Science staff took part in a 3-hour professional development workshop run by Pennie Stoyles, STELR Program Manager. The PD was aimed at providing a hands-on experience
using sustainable energy kits, including solar, wind and electrical energy.
STELR stands for Science, Technology, Education, Leverage and Relevance and is delivered to many schools throughout Australia. The targeted audience is years 7-10, with strong applications for the study of Physics and Chemistry. STELR was designed to engage students with inquiry-based learning investigations, such as designing wind turbines, solar cars and constructing sustainable houses.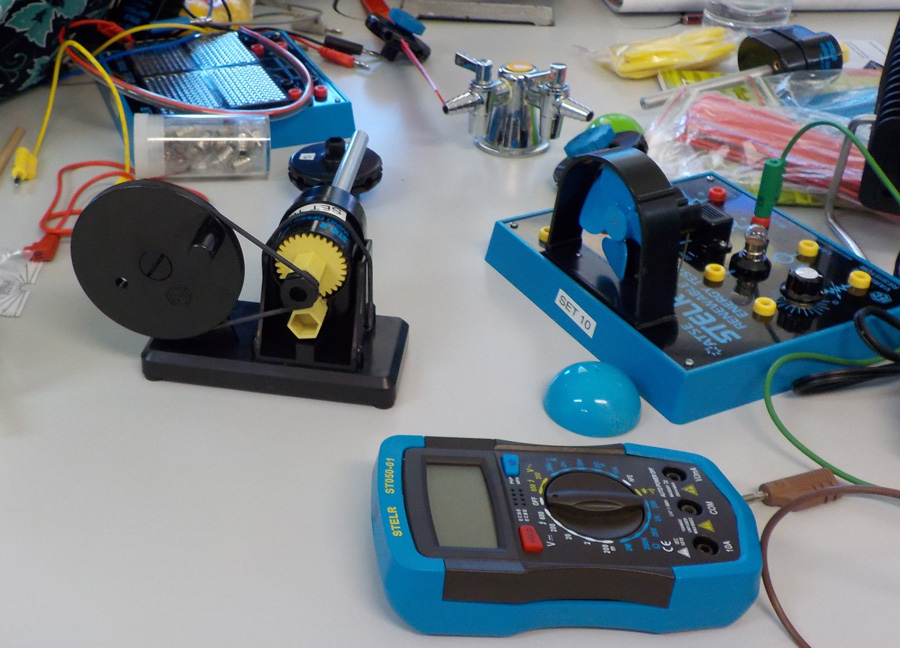 AISWA Inclusive Education
On Tuesday 10th and Wednesday 11th September the school will host AISWA Inclusive Education consultant Kate Stannard who will be conducting lesson observations and working closely with staff to strengthen processes and support strategies for students in a differentiated learning environment. Kate will also facilitate a workshop with staff around 'modified curriculum, reporting, and assessment formats'.
Maths Pathways
Next Thursday and Friday Nicholas Boucher will travel to Perth to undertake professional development in the use of differentiated learning software resource for mathematics. Maths Pathways is a personalised platform for learning that creates modules of work for students based on their area of need as identified via initial diagnostic testing. The focus of assessment is the personal 'growth' aspect of a student's learning, or put more simply the level of progress achieved by a student over the course of their journey from point A to point B. Provided the feedback and subsequent trial period is as good as what we expect it to be Maths Pathways will be an exciting addition to our differentiated approach to teaching Mathematics in 2020.
NOTICES
Australian Mathematics Competition (AMC)
On Thursday 1st August 52 EACS students across all years 7-12 sat the AMC, which is a norm referenced national and indeed international competition where student pit their mathematical skills against questions of increasing difficulty. Unlike many schools who 'cherry pick' their top performing students to take part nearly one third of EACS students were provided the opportunity with 29% of the school receiving top 50% percentile awards, which included:
Credit 12 students (50th percentile)
Distinction 2 students (80th percentile)
High Distinction 1 student (95th percentile)
NAPLAN
NAPLAN data has been released, which will be analysed in greater detail and reported upon in due course. Initial data comparison of national v school averages across the testing components highlights some areas for improvement in year 7 with year 9 performing strongly.
Absenteeism Protocol
A reminder that when a child is off sick or when a child is scheduled to be away for an extended period of time the front office should be notified by letter, email or Seqta message. Verbal notification from child to Teacher is not an appropriate medium of correspondence.
Athletics Carnival
This whole school event is scheduled for Thursday 19 September. It would be great to see as much spectatorship and support on the day to help our students celebrate a wonderful day of track and field athletics and fun novelty events.
Year 10/11 Careers Camp – Perth
This week 12 students across years 10 and 11 are in Perth benefiting from and taking advantage of a week's work experience and universities visits. The Careers Camp is a great opportunity for our students to explore potential career pathways and post-school destinations, whilst needing to show maturity, responsibility and independence in their behaviours. A fantastic value adding experience.
What's on this week (week 8)
Monday to Friday Year 10/11 Careers Camp in Perth
Wednesday Sharon Southall (Psychologist) in school – appointments necessary
What's on next week (week 9)
Tuesday 17 September 'Headspace' Schools Mental Health workshops (students & parents)
Thursday 19 September Inter-house Athletics Carnival
Further ahead
27 September Last day of term 3
14 October Term 4 commences (all staff and students)
14-18 October Year 12 Mock WACE Exams (Year 12 study leave)
21-25 October Year 12 final week in school
Best wishes for the week ahead.

Iain Clark
INTERIM PRINCIPAL