The 'ETA' Executive Team Address
TERM 4 WEEK 3 REFLECTIONS
From Good Stress to Bad Stress
Our year 12 students officially finished school last Friday enjoying a beautiful farewell breakfast made by Mrs Marquis and Mrs Shipp followed by an activity morning at the beach. New horizons and a range of post-school pathways and destinations are now looming.
For our ATAR students they still have their final WACE exams to sit according to the following schedule:
Wednesday 30 October Geography 1400hrs
Friday 01 November English 0920hrs
Tuesday 05 November Physics 0920hrs
Tuesday 05 November Psychology 1400hrs
Thursday 07 November Maths Applications 0920hrs
Friday 08 November Biology 1400hrs
Monday 11 November Chemistry 0920hrs
Wednesday 13 November Media Production and Analysis 0920hrs
These 3-hour WACE exams will be the most important exams to date and are the culmination of two years of senior secondary study. Individual student results will be compared and ranked like for like against other students sitting the same or similar exams across the state. Stakes are high, but it is hoped that the prior learning, as well as the ongoing preparation and revision schedule, will hold our students in good stead in the final analysis.
Much research is written about exam stress and the negative connotations relating to reduced working memory leading to lower performance. But how we see stress can actually make a difference to the way it affects us. Research shows if we believe stress is a helpful response that will increase our performance in a challenging event, it can be a tool that works to our advantage. And with upcoming exams for our 7-11 students, some poignant reflections with this in mind:
Stress is a normal experience when we have a challenging event. We can experience stress when learning something new, starting a new job or being in a race.
Our experience of "stress" is actually our body getting us ready to take on the challenge. A stress response is helpful as it can increase oxygen to the brain and improve attention, focus, energy and determination.
The runner in a race needs to be "stressed" to compete successfully. The young person sitting in an exam room needs it too.
Studies show people who are clear about their feelings are more likely to thrive on anxiety and stress and possibly use these to achieve their goals and find satisfaction at work.
Source: School news, Tuesday 22 October 2019
The following diagram depicts the 'Inverted U-Hypothesis' which deals with levels of arousal and the corresponding effect on performance.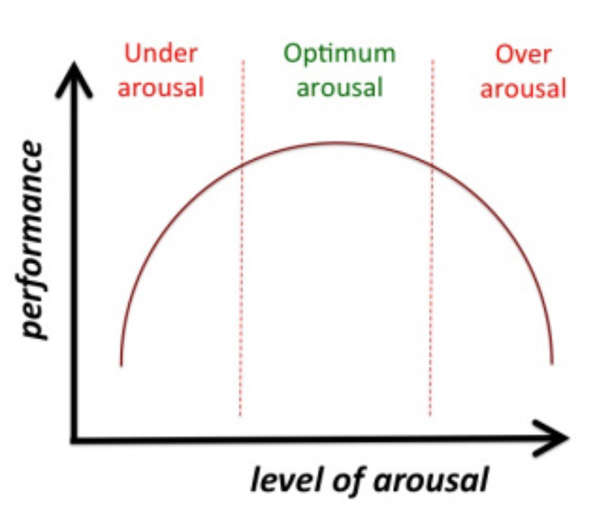 Source: Google images
The 'Inverted U-Hypothesis' states that in its optimal form stress and anxiety can work for you. But they become bad when we are bored or unmotivated (i.e. under arousal) or when we evaluate events as a threat rather than a challenge and when we believe we don't have enough resources to cope (i.e. over arousal). Put more simply, as arousal levels increase so does performance up to a point called the 'zone of optimal functioning'. In the zone of optimal functioning the human body is alert and focussed on the relevant cues. Past this point stress and anxiety starts to become detrimental to our performance as fear of underachievement or failure begins to set in.
Exams are often treated as a threat because there is potential harm or loss related to our self-worth, identity, and commitments, goals and dreams. If we fail, we think we are a failure and we may never get the future we had hoped for. Our whole life is at stake.
Below are four ways for students to make stress work for them:
Read your body differently
Start to read your stress response as being there to help you prepare for the challenge. Instead of seeing it as a threat, try to see it as a coping tool. When you are experiencing stress, you can say to yourself: "I am feeling a little uncomfortable; my heart is beating faster, but my body is getting me ready to compete".
Reframe the meaning of the event
Rather than framing exams as a threat, try to frame them as a challenge. Part of the reason they are seen as a threat is because your whole future, identity and worth appear to be at stake. This is not true. Exams are one very small part of your life that does not decide your whole future. There are always other options, different pathways and opportunities. Sometimes the path we imagine looks a little different. Not all journeys are straight, and the best ones can have diversions.
Accept stress and negative emotions
Some common ways people approach stress is to try to relax, ignore stress and try to reduce it. These approaches actually reinforce that stress is "bad" rather than accepting it as a natural and helpful response. These approaches also lead to poorer performance and emotional exhaustion. Rather than ignoring the emotions, it's better to feel them, accept them, and then try to use them to your advantage. You can say to yourself: "I feel this way because this goal is important to me, and my body is responding this way because it is getting me ready to perform".
Add to your resources
Clearly, changing your mindset is only helpful if you have the resources to cope. It would be like an athlete who is about to compete but has not trained. Put time into study, study in different ways (read, write ideas in your own words, talk about the ideas, draw them) and give yourself time to practise these ideas. When you have done this, your stress response then draws on these resources. Stress will always be present in our lives as we take on new challenges and grow as a person. When we see low-level stress as a threat it becomes one. It becomes a red flag that we are not coping, that these feelings are wrong, and we should retreat. This is not true.
School news, Tuesday 22 October 2019
Notices
Chess Congress 2019
Our tenth annual Chess Congress was held last Friday with 32 students across the local catchment primary and secondary schools taking part. It was another great opportunity for chess playing enthusiasts to converge for a day of strategical mind battles. This year it was ESHS who had the stronger play winning 79 points to 51.
The calm before the storm and post event celebrations – a good bunch of lads!
Community Service obligations
Year 7-10 students fulfilling community service hours across the year is integral to their maintenance of good standing with the school. Cumulative hours required up until the end of term 3 are:
Year 7 = 3 hour
Year 8 = 6 hours
Year 9 = 9 hours
Year 10 = 12 hours
Students who have fallen short of this mark will forfeit their good standing status effective from the start of week 4 on Monday 4th November until the deficit has been rectified. This may prevent the students from participating in or benefitting from normal or elevated school reward or privileges during the period of loss.
Please have a conversation with your child, clarifying with them what service learning hours have been accumulated across the year so far (term's 1, 2 and 3) ensuring that One Note folders (where community service is logged) are up to date and Advisory Tutors are aware of recent updates to these folders. There is still time for students to put measures in place to bridge the deficit before the Monday 4th November deadline.
Student Achievements
Imogen Stone
Imogen Stone has been awarded an Edith Cowan University Year 11 & 12 Achievement Award for the 2019 school year. These awards are one-off awards presented to successful students who demonstrate, leadership qualities, academic achievement and a commitment to ECU's core values of Integrity, Respect, Rational Enquiry and Personal Excellence. Imogen is a deserving recipient of this award and the school is very proud of her achievements.
Alec Watkins
Congratulations to Alec Watkins who won the 85cc class and the overall 85cc Junior Shield for the 2019 season at the Motorcross windup. A proud moment indeed.
CALENDAR EVENTS
What's on this week (week 3)
Friday Year 11 Exams commence
Further ahead
01-07 November Year 11 Exams
08 November Year 11 First Aid training (St Johns, Esperance, Sub Centre)
04-08 November Year 10 Exams
13 November Open Morning 0910 – 1110hrs
15 November Transition Day
18 November Mid-term break (school closed)
19-22 November Year 7-9 Exams
24 November Musical Soiree and family afternoon 1300-1600hrs
10 December Night of Celebration and Awards
12 December Inter-house Beach Volleyball (all day)
16 December 2019S2 Reports issued
Executive Principal Dates - Esperance
Tuesday 12 November – Thursday 14 November (am)
Tuesday 3 December – Thursday 5 December (am)
Tuesday 10 December – Wednesday 11 December (am)
Best wishes for the week ahead.

Jason Bartell
EXECUTIVE PRINCIPAL

Iain Clark
DEPUTY PRINCIPAL

Lisa Marquis
ASSISTANT PRINCIPAL