The 'ETA' Executive Team Address
TERM 4 WEEK 5 REFLECTIONS
"Lest we forget"
At 11 am on 11 November 1918 the guns of the Western Front fell silent after more than four years continuous warfare. The allied armies had driven the German invaders back, having inflicted heavy defeats upon them over the preceding four months. In November the Germans called for an armistice (suspension of fighting) in order to secure a peace settlement. They accepted the allied terms of unconditional surrender.
Remembrance Day in Australia is an occasion to commemorate and remember all Australians who have died as a result of war. On this day we pay our respects and in quiet solidarity we reflect on 'The Ode of Remembrance': "They shall grow not old, as we that are left grow old: Age shall not weary them, nor the years condemn. At the going down of the sun, and in the morning, we WILL remember them. Lest we forget."
CALENDAR EVENTS
What's on this week (week 5)
Monday Year 9 Assembly and Remembrance Day service
Tuesday-Thursday Executive Principal on campus
Tuesday Year 9 Big Picture Exhibition evening 1700-1800
Tuesday Year 9 English/Maths academic pathway meetings 1630-1700 & 1800-1830
Wednesday Open Morning 0910 – 1110
Thursday Year 8 and 9 elective subject selection meeting 2020
Friday Transition Day (new students 2020)
What's on this week (week 6)
Monday Mid-term break (school closed)
Tuesday to Friday Year 7-9 Exams
Wednesday Maths Pathways parents evening
Further ahead
03 December Musical Soiree (DMP 1730 – 1900)
09 December Year 12 Graduation evening at the Pier
10 December Night of Celebration and Awards
11 December Advanced Standing luncheon and reward activity
12 December Inter-house Beach Volleyball (all day)
16 December 2019S2 Reports issued
Executive Principal Dates - Esperance
Tuesday 12 November – Thursday 14 November (am)
Tuesday 3 December – Thursday 5 December (am)
Tuesday 10 December – Wednesday 11 December (am)
Notices
Year 9 Big Picture Exhibition Evening
On Tuesday 12 November our year 9 students will be exhibiting their semester's work in DMP from 1700-1800hrs.
Year 9 into 10 ATAR Pathways Meeting
On Tuesday 12 November Mrs Ford and Mrs Walter will be presenting the English and Mathematics preparation pathways available for our year 9 students as they make preparations for year 10 in 2020. Two sessions will be facilitated, one from 1630-1700hrs and one from 1800-1830hrs.
Open Morning
The Wednesday 13 November EACS has an Open morning from 0910 -1110hrs. There will be a short welcome from the Executive Principal followed by school tours and an opportunity for a cup of tea or coffee and a chat.
Year 8 & 9 Elective Subject Selection Meeting
This Thursday 14 November all current year 8 and 9 students will attend an elective subject selection meeting where they will find out more information about the elective program and structure for 2020.
Transition Day
This Friday 15 November is the first opportunity for our new students commencing in 2020 to spend a day in the life of an EACS student. New students will participate in a range of activities designed to provide enjoyment, foster new friendships and gain an awareness and appreciation for the school's facilities, programs and surrounds.
Year 9 Canberra Camp 2020
Please be advised that the dates for next year's Canberra Camp fall within the second week of the July school holidays. The trip dates are the 13-21 July 2020.
Year 10-11 Careers Camp 2020
The date for next year's Careers Camp has been brought forward to the final week of term 1 departing EACS on Saturday 04 April returning on Thursday 09 April. It will incorporate three full days of work experience for our year 10 students and university / post school pathways tours for our year 11 students.
Musical Soiree
An evening of musicianship will take place on Tuesday 03 December from 1730hrs in DMP. RSVPs necessary for catering purposes.
Student Achievements
Last Friday ten year 11 students attended the St Johns Esperance sub centre to complete their HLTAID005 Provide first aid in remote situations qualification. They also qualified for their HLTAID001 Provide cardiopulmonary resuscitation, HLTAID002 Provide basic emergency life support, HLTAID003 Provide first aid.
Congratulations to Kristyn Baker, Luke Burnside, Zowie Fiegert, Luke Greatrex, Mia Johnson, Kyra Morris, Caitlyn Muir, Gemma Neilson, Imogen Stone, Caleb Waters.
Rottnest Island Swim
Congratulatons to Maddie McGrinder and Ben Murgatroyd who have obtained entry to swim in the duo event of the Rottnest Island swim in 2020. Entries in the duo and team events sold out in minutes so a remarkable effort to even secure a birth. Even more remarkable is the fact that the swim is 19.7km of unpredictable ocean. We wish our students well with their training and watch their progress with interest and anticipation.
Year 12 WACE ATAR Examination Schedule 2019 (Anglican Parish Hall)
Monday 11 November Chemistry 0920hrs
Wednesday 13 November Media Production and Analysis 0920hrs
Year 7-9 Examination Schedule 2019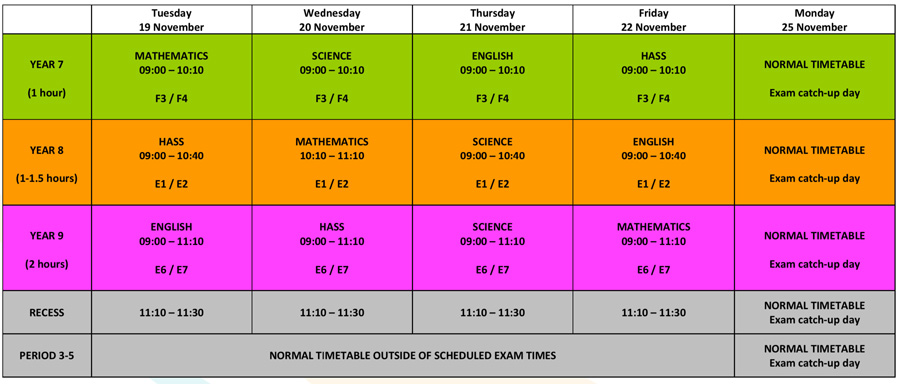 Best wishes for the week ahead.

Jason Bartell
EXECUTIVE PRINCIPAL

Iain Clark
DEPUTY PRINCIPAL

Lisa Marquis
ASSISTANT PRINCIPAL