The 'ETA' Executive Team Address
TERM 1 WEEK 5 REFLECTIONS
School Improvement 
Staff have embarked on a journey of School Improvement using the Australian Council for Educational Research (ACER) National School Improvement Tool (NSIT) framework. Whilst we recognise there are numerous positive aspects of an EACS education no organisation can ever be complacent, and our dedicated and talented staff recognise the importance of continually looking for innovative ways to improve the quality of teaching and learning outcomes of all EACS students.
For your interest the nine domains of school improvement are:
An explicit improvement agenda
Analysis and discussion of data
A culture that promotes learning
Targeted use of school resources
An expert teaching team
Systematic curriculum delivery
Differentiated teaching and learning
Effective pedagogical practices
School–community partnerships 
A learning cycle to address nine key domains of school improvement is underway with the focus for 2020 on two domains:
Analysis and discussion of data
Effective pedagogical practices
Analysis and discussion of data (ADD) has commenced with two key initiatives. Firstly, the school has recently completed Australian Council for Educational Research (ACER) testing across years 7-10 and is now finalising the results, thus formulating a broad-spectrum overview of those students requiring remediation and additional support as well as those requiring enrichment and extension opportunities.  Secondly, the school has engaged the data analysis services of 'Best Performance'. Key standardised testing data from both the ACER and the National Assessment Program for Literacy and Numeracy (NAPLAN) testing is now beginning to be analysed to a depth not previously thought possible and accessed by staff to develop tailored individual lesson plans as well as the ability to monitor, more effectively, student 'growth' over time. 
Effective pedagogical practices (EPP) recognises that highly effective teaching is the key to improving student learning throughout the school. EPP encourages the use of research-based teaching practices in all classrooms to ensure that every student is engaged, challenged and learning successfully. All teachers understand and use effective teaching methods – including explicit instruction – to maximise student learning. EPP or best teaching and learning practices in the classroom (based on the most current educational research available) is a focus for staff as part of our ongoing professional learning throughout the year. 
Notices
YEAR 7&8 PARENT/TEACHER INTERVIEWS
A reminder that Parent/Teacher meetings are being facilitated across years 7&8 this afternoon from 1515-1815hrs in DMP. This is an opportunity to meet with core subject teachers across the domains of English, HASS, Maths and Science. If you missed scheduling an appointment and would like to gauge availability, please contact the school office.
GOOD STANDING POLICY
There will be a parents evening tomorrow, Wednesday 04 March from 1730 – 1830hrs, where the school's Good Standing Policy will be discussed in greater detail. The school's Good Standing Policy is an all-encompassing policy addressing both reward and discipline in the school.
STUDENT ACHIEVEMENTS 
It would be great to be able to make mention of notable achievements from our students throughout the year. Many achievements occur outside the realms of school - but does this render them any less noteworthy than those achieved in school? So, whether it's motocross, horse riding, sailing or tiddlywinks if your child has done something that is a feather in their cap and that they or you are proud of then please advise so this can be recognised and trumpeted to the world via school media publications.
Rottnest Swim Challenge
Congratulations to year 10 and 11 students Maddie McGrinder and Ben Murgatroyd who not only completed this remarkable achievement, but placed third in their section with a time of 6:31:55hrs. Whilst the choppy conditions proved too much to handle for many of the 2400 competitors, the stoic nature of our students enabled them to overcome adversity and finish the 19.7km open water swim from Cottesloe Beach to Rottnest Island.
The World's Greatest Shave Fundraiser 
Vaughan, Keeley and Jody Clarkson are raising money for Leukaemia Foundation through World's Greatest Shave. This event will take place on Friday 13 March.
Hair lengths will be donated to Sustainable Salons, which will turn the hair into wigs for those with cancer. A donation box has been placed in the front office and a 'gold coin' free dress day has been organised with proceeds going to this worthy cause.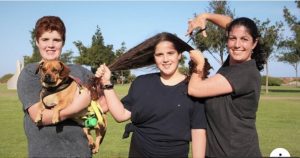 What's on this week​​ (week 5)​​​
03-06 March     OLNA Round 1 testing
03 March           Year 7&8 Parent Teacher meetings
04 March           Good Standing Policy Parents evening
What's on next week​​ (week 6)​​​
10 March            Year 9 Canberra Camp fundraising meeting 1715hrs
13 March            World's Greatest Shave fundraiser and free dress day
13 March           TEE Consultants revision seminar talk to year 12 ATAR students
​14 March           School Ball (Newtown Football Club)
 Further ahead​​
16 March         'Blackdog Institute' Mental Health presentations to students
17-19 March     Executive Principal in school
17 March          Maths Pathways parents evening (year 7)
18 March          Maths Pathways parents evening (year 8 and 9)
18 March          Inter-house swimming carnival (BOILC)
24 March          Year 7 immunisations
25 March          Direct Pathways to Health Sciences at UWA presentation (years 11&12)
26 March          Year 11&12 Parent Teacher meetings
31 March         Scitech incursion and student workshops
Best wishes for the week ahead.

Jason Bartell
EXECUTIVE PRINCIPAL

Iain Clark
DEPUTY PRINCIPAL

Lisa Marquis
ASSISTANT PRINCIPAL