The 'ETA' Executive Team Address
TERM 1 WEEK 6 REFLECTIONS
Student Leadership
This year our Student Leadership Group (School Prefects) have hit the ground running. Their duties are many and varied and in a relatively short period of time they proved to be exceptionally keen and industrious. They indicated during our weekly Prefect meetings how important they felt it was to serve the school community and its students. This has already been evidenced through a number of mediums and initiatives, namely:
Duty Prefect roster each week
Leading school assemblies and chapel services
Leading Advisory group 'Ice breaker' and 'relationship building' activities
Leading 'Student Code of Conduct' meetings and collating feedback
Launching 'Student Representative Council (SRC)' to year groups
Participating in a Student Leadership Program
We are fortunate to have a talented and dedicated student leadership group who are willing to step out of their comfort zone, embrace challenge and opportunity and learn new skills.
Notices
STUDENT REPRESENTATIVE COUNCIL LAUNCH
On Tuesday our School Prefects will be making Advisory visits to launch the Student Representative Council (SRC) with the students. The SRC is a committee of elected boys and girls from each advisory group who meet regularly each term with the aim of helping to make the School community an even better place than it already is. Interested students must nominate themselves during Advisory on Wednesday and Thursday this week and voting will take place on Friday 13 March.
YEAR 9 CANBERRA CAMP FUNDRAISING MEETING
There is a Canberra Camp fundraising meeting this Tuesday 10 March at 1715hrs, which hopefully will provide an opportunity for parents to meet and discuss upcoming initiatives. If you have
indicated that you would like to be part of the fundraising effort, please make every effort to attend.
WORLDS GREATEST SHAVE
Vaughan, Keeley and Jody Clarkson are raising money for Leukaemia Foundation through World's Greatest Shave. This event will take place on Friday 13 March. Hair lengths will be donated to Sustainable Salons, which will turn the hair into wigs for those with cancer. A donation box has been placed in the front office and a 'gold coin' free dress day has been organised with proceeds going to this worthy cause.
YEAR 11 AND 12 SCHOOL BALL
One of the more apparent highlights of the school year for our senior students is their School Ball to be held this Saturday 14 March. This year it is an 'Enchanted Forest' theme and Newton Football Club is the chosen venue. Year 12s have been working very hard to make this a special moment in time event and we wish them all the very best for a fantastic evening.
SCHOOL PRODUCTION
After the roaring success of "The Next Big Thing" back in 2018 this year a hilarious and completely unique version of "A Midsummer Night's Dream" is going to take the Esperance community by
storm. Students have been auditioning last week and the cast is about to be named with lots of singing, dancing, acting, backstage parts for whomever is keen to be involved. Directed by our
Drama and English specialist Ms Taylor we can expect a production full of mischief, mix-ups and a whole lot of laughs (…and that's just the rehearsals).
COMMUNITY ENGAGEMENT
Recently four of our year 10 students participated in Digital Mentor training, the aim being to train community members who can then help others both become connected and stay connected
through technology. With the help of our talented students Nikahla Andrews, Charli Brewer, Ashton Burnside and Jorjia Smithies, Esperance community participants are learning the techniques of creating work on their smart devices using Adobe Draw. Just another fine example of EACS students doing themselves proud in the local community.
Student Achievements
Rubik's Cube Awesomeness
Being able to make one side of a Rubiks Cube is always quite satisfying, and if you could complete two sides – well that was something worth celebrating. But forget ever being able to complete the puzzle in its entirety and get all six sides out. You had to be a absolute 'gun' to do that! WELL … We have a 'Gun' in our midst, none other than Tony Nguyen in year 11. Tony can not only complete the puzzle, but in front of the whole school during assembly completed the puzzle in 14 seconds! Totally awesome.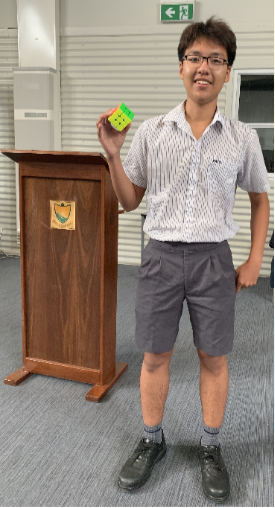 What's on this week​​ (week 6)​​​
Tuesday Prefect visits to Advisories to discuss the Student Representative Council (SRC)
Tuesday Year 9 Canberra Camp fundraising meeting 1715hrs
Friday World's Greatest Shave fundraiser and free dress day
Friday Student voting for SRC
Friday TEE Consultants revision seminar talk to year 12 ATAR students
​Saturday School Ball (Newtown Football Club)
What's on next week​​ (week 7)​​​
16 March 'Blackdog Institute' Mental Health presentations to students
17-19 March Executive Principal in school
17 March Maths Pathways parents evening (year 7)
18 March Maths Pathways parents evening (year 8 and 9)
18 March Inter-house swimming carnival (BOILC)
20 March National Day of Action Against Bullying and Violence
Further ahead​​
24 March Year 7 immunisations
25 March Direct Pathways to Health Sciences at UWA presentation (years 11&12)
26 March Year 11&12 Parent Teacher meetings
31 March Scitech incursion and student workshops
04-09 April Year 10-11 Careers Camp, Perth
05-09 April Year 7-8 Outdoor Adventure Camp, Metricup
Best wishes for the week ahead.

Jason Bartell
EXECUTIVE PRINCIPAL

Iain Clark
DEPUTY PRINCIPAL

Lisa Marquis
ASSISTANT PRINCIPAL