TERM 2 WEEK 5 REFLECTIONS
School Improvement
Recently, staff have embarked on a journey of School Improvement across nine key domains identified by the Australian Council of Educational Research (ACER). Whilst we recognise the many and varied benefits of an EACS education we can never be complacent, and our dedicated and talented staff recognise this as we invest time and resources to consolidate core teaching practices as well as seek out new and innovative ways to improve teaching and learning outcomes for all students, across the breath of learning opportunities.
A learning cycle to address nine key domains of school improvement is underway with two key domain focuses over the next 18 months, that of:
Analysis and Discussion of Data
Effective Pedagogical Practices
Analysis and Discussion of Data identifies that improvements in student outcomes are promoted by the effective use of data to establish starting points for action, to monitor progress over time and to evaluate the effectiveness of interventions and changes.
Our Analysis and Discussion of Data Improvement Strategy is to:
Improve the quality of the data being collected and to promote the analysis and use of systematically collected data throughout the school.
Prioritise professional development to build teachers' and leaders' data literacy skills.
In meeting this objective, the school has already engaged the services of Data Hub and C-NAP and received introductory professional development using the databases to analyse standardised testing data gleamed from ACER testing and NAPLAN results to inform our differentiation agenda. Seqta Analyse is another data analysis software package that we are looking into to analyse pastoral data relating to affective domains and school attendance.
Effective Pedagogical Practices identifies that improvements in student outcomes are promoted by highly effective classroom teaching.
Our Effective Pedagogical Practices Improvement Strategy is to:
Encourage the use of more effective, research-based teaching practices in all classrooms to ensure that every student is engaged, challenged and learning successfully.
The School Executive to spend time working with teachers to improve their teaching practices, including modelling, evaluating and providing feedback on classroom teaching.
In meeting this objective, the School's teachers are investing in a series of workshops (18 in total) focusing on the development of Assessment for Learning (formative Assessment) techniques, to be implemented by all teaching staff to enhance the engagement and learning of all students.
Notices
Online Learning Follow up
It is generally accepted that the EACS online learning timetable structure and Microsoft Teams learning platform was a successful substitute mode of learning during COVID-19 restrictions. This said there were still frustrations that manifested stemming from the fact that some students were experiencing difficulty in corresponding with their Teachers and submitting work in a timely fashion and in the required format.
Whilst not exhaustive in nature a HELP IT Guide has been created, which should assist students moving forward. Advisory and subject Teachers will take opportune moments to help students familiarise themselves with some of the more basic functions outlined below so they can all feel more confident accessing, saving and submitting files in the future.
The attached document specifically addresses the following basic functionalities:
Uploading e-submissions (files) through SEQTA Learn
Saving a Microsoft Word document to One Drive as a PDF
Convert and open documents in Pages on iPad
Convert a Keynote presentation in Keynote on iPad
Email a Word document via Microsoft Outlook
Email a PDF document via Microsoft Outlook
Send a Seqta message and upload a file through SEQTA Learn
Save iPad Camera Images (i.e. screenshots) as JPEG Instead of HEIC
Send a Seqta message and upload an image (from photo library) through SEQTA Learn
Year 10-12 Exams
The timelines for semester one exams are as follows:
Year 10-12 _ Monday 08 June to Friday 12 June (week 7)
Year 11 and 12 ATAR students will be given study leave during this time. Year 11 and 12 General students will continue to attend school as normal. Year 11 and 12 exams will be provisioned in the Anglican Parish Church. Year 10 exams will take place in school.
Exam schedules will be distributed this week once finalised.
WA Child Safety Services Workshops
Below are upcoming FREE workshops that the PCWA is offering the Goldfields Esperance community via zoom, facilitated by WA Child Safety Services:
Protective Behaviours
Wednesday 10 June 6:30-9:00pm (Bookings: GoldfieldsEsperance.PCWA@anglicarewa.org.au)
Cyber Safety
Wednesday 17 June 6:30-9:00pm (Bookings: GoldfieldsEsperance.PCWA@anglicarewa.org.au)
Impacts of Pornography
Wednesday 24 June 6:30-9:00pm (Bookings: GoldfieldsEsperance.PCWA@anglicarewa.org.au)
For further information on the content of these sessions please email Mr Clark (iclark@eacs.wa.edu.au)
Student Achievements
Congratulations to Kristyn Baker (year 12) who recently completed a Certificate III in Fitness through the Australian Institute of Personal Trainers (AIPT). Kristyn completed her certificate in just over 12 months, a remarkable achievement indeed. Kristyn can now expect a rewarding post school pathway in her chosen field and we join together in wishing her every success in the future.
Kristyn is just one of a number of students choosing a diverse range of vocational qualifications from Nursing to Game Design and Bookkeeping, which is further testament to the opportunities afforded students of Esperance Anglican Community School.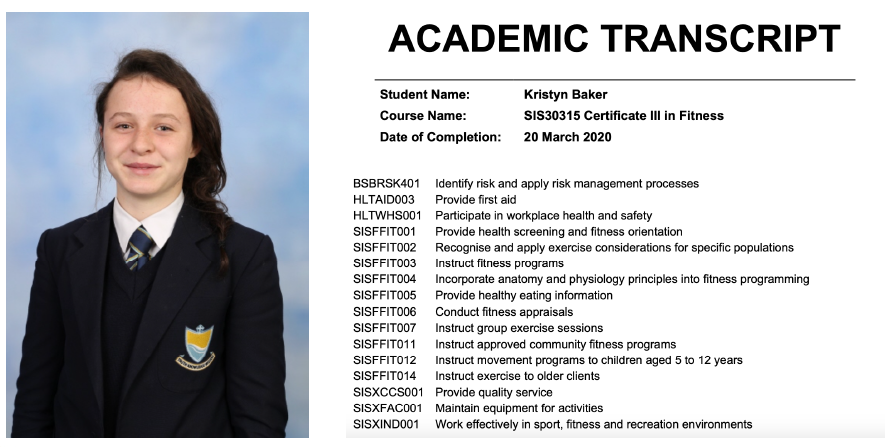 What's on this week (week 5)
Tuesday Sharon Southall (Psychologist) in school – appointments necessary
Wednesday Year 10 Vaccinations
Friday School Prefect meeting in D3
Best wishes for the week ahead.

Jason Bartell
EXECUTIVE PRINCIPAL

Iain Clark
ASSOCIATE PRINCIPAL

Lisa Marquis
ASSISTANT PRINCIPAL