TERM 2 WEEK 6 REFLECTIONS
COVID-19 Different Student Experiences and the Importance of Relationships
In a recent article entitled: 'Student wellbeing: Understanding different COVID-19 experiences', Author Helen Street stressed that the remote learning experience impacted students differently. Many students missed the face-to-face nature of traditional schooling, whilst others seemed to thrive in a home environment with less social complexity.
The following quote from teacher Anna Partridge speaks volumes:
'…while teaching my classes online, some students who struggled in class have thrived, submitted their work on time and to a good quality. Others are really missing the collaboration in class and bouncing ideas off others. Some are loving the unstructured day and being home with families, and yet others are struggling with the home environment and relationships are strained.'
As educators this reinforces our need to acknowledge students' different experiences and be forever mindful of unique and individual situations that impact on children's learning, both at school and in the home environment.
The point is made that young people need to feel socially and emotionally safe before they can engage with their learning and do their best academically. Therefore, the impact of peer and teacher relationships in the 'normal' world of face-to-face school life is vitally important.
The EACS mission states:
'At Esperance Anglican Community School we aim to educate the whole person – in mind, body and spirit – as a unique individual each with their own talents and capabilities.'
This mission is expressed through more specific goals which provide the basis for the detailed strategies which allow the School to provide the education and pastoral support it espouses, which hopefully maximises peer and teacher relationships:
Our School should be a safe place where people can grow and develop without fear or ridicule
We should nurture spiritual growth in all members of our community through the development of Christian belief as enshrined in the traditions of the Anglican Communion
All activities must be pursued to the highest possible standard to allow for the fulfilment of the talents with which we have been blessed
Our students should be encouraged to develop an appreciation of the need to understand, respect, serve and care for others and for our environment
Students should be encouraged to adopt a healthy lifestyle to promote their well- being through their participation in a range of activities
A commitment to high standards of behaviour, self-discipline and resilience will contribute to the quality of life in the School community
Students will learn most effectively when a love of learning is promoted and where creative, critical and reflective learning is encouraged
All students should be able to leave the School with the highest level of academic achievement consistent with their capabilities
Notices
Around the School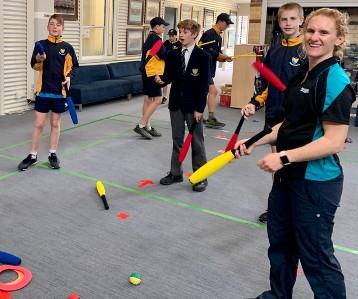 Year 8 Physical Education (Circus Skills)
Whilst many co-curricular and extra-curricular activities are still to be phased back into school life it is great to see students engaged in their learning opportunities across the curriculum as the following snapshots suggest: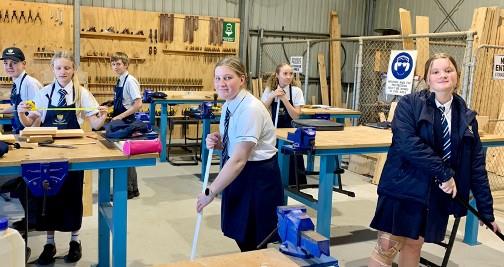 Year 8 Design and Technology (Woodwork)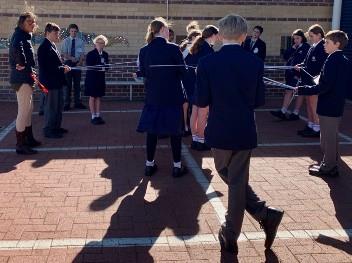 Year 7 Science (Food Webs)
WA Child Safety Services Workshops
Below are upcoming FREE workshops that the PCWA is offering the Goldfields Esperance community via zoom, facilitated by WA Child Safety Services:
Wednesday 10 June 6:30-9:00pm (Bookings: GoldfieldsEsperance.PCWA@anglicarewa.org.au)
Wednesday 17 June 6:30-9:00pm (Bookings: GoldfieldsEsperance.PCWA@anglicarewa.org.au)
Wednesday 24 June 6:30-9:00pm (Bookings: GoldfieldsEsperance.PCWA@anglicarewa.org.au)
For further information on the content of these sessions please email Mr Clark (iclark@eacs.wa.edu.au)
Maths Pathway Surveys (Year 7-9 students and parents)
Surveys seeking feedback from parents and students about Maths Pathway were circulated last Friday and remain open. If you haven't already completed this short survey it would be greatly appreciated if you could do so at your earliest convenience. Surveys close this Wednesday 03 June.
What's on this week (week 6)
FridaySchool Prefect meeting in D3
What's on next week (week 7)
08 June Year 7&8 rotation 2 electives commence
8-12 June Year 10-12 Exams (see attached timetables)
9 June Anglican Schools Commission CEO Reverend Peter Laurence OAM visit
9-12 June Executive Principal in school
09 June Staff Professional learning (Effective Pedagogical Practices)
11 June Staff Professional learning (Effective Pedagogical Practices)
Year 10 Exam Schedule (week 7)
08 June Mathematics
09 June HASS
10 June English
11 June Science
12 June Exam catch-up day
Year 11 Exam Schedule (week 7) - Anglican Parish Church
08 June English
09 June Chemistry & Psychology
10 June Human Biology
11 June Geography
12 June Mathematics (Applications)
Year 12 Exam Schedule (week 7) - Anglican Parish Church
08 June English
09 June Chemistry & Psychology
10 June Biology & Mathematics (Specialist)
11 June Geography & PE Studies & Physics
12 June Mathematics (Applications) & Mathematics (Methods)
Year 12 Externally Set Task Schedule - General students
10 June Mathematics (Essentials)
16 June PE Studies
17 June Childcare, Computer Science, Outdoor Education
18 June English, Career and Enterprise
Best wishes for the week ahead.


Jason Bartell
EXECUTIVE PRINCIPAL


Iain Clark
ASSOCIATE PRINCIPAL


Lisa Marquis
ASSOCIATE PRINCIPAL