TERM 2 WEEK 9 REFLECTIONS 
Lessons from Geese – part II
FACT: When a goose falls out of formation, it suddenly feels the drag and resistance of flying alone. It quickly moves back into formation to take advantage of the lifting power of the bird in front of it.
LESSON: If we have as much sense as a goose, we stay in formation with those headed where we want to go. We are willing to accept their help and give our help to others.
EACS APPLICATION: At EACS we encourage all students to have a personality, a sense of humour and to be able to express their sense of individuality in their own unique way. This is something to be embraced and encouraged.
Occasionally, when a student joins EACS with motives and intentions that aren't that to which we all espouse and work hard to propagate, they very quickly realise that their attitudes and behaviours aren't widely supported by their peers.
Students very quickly realise that they either fall back into formation to minimise drag on themselves and enhance the lifting power of the other students.
The school ethos and culture are such that students receive the support and guidance they need to realise the benefits of conformity, so they can achieve to their potential and derive maximum benefit from their education as well as their peer interactions and relationships.
Student Achievements
It would be great to be able to make mention of notable achievements from our students throughout the year. Many achievements occur outside the realms of school, but this does not render them any less noteworthy than those achieved in school. So whether it's motocross, horse riding, sailing or tiddlywinks if your son or daughter has done something that is a feather in their cap and that they or you feel proud of as parents, then inform the school so this can be recognised and trumpeted to the world via our school media publications.
Zowie Fiegert
Congratulations to Zowie Fiegert who has been offered an Early Entry position at Murdoch University to study a 'Bachelor of Environmental Science'. Zowie will begin her study in February 2021.
Zowie is the second of a number of Year 12 Early Entry positions that we expect to be offered in coming weeks and months.
Rhys Symonds and Jett Nelson
Congratulations to Rhys Symonds and Jett Nelson who have been selected to attend the 'Curtin Ahead with Confidence Camp'. The camp allows students from remote and regional communities the opportunity to visit the campus and gain first-hand insight into university life. Camp participants engage in a range of leadership and personal development activities that help them build confidence in pursuing their post school destination career goals, as well as navigating life living in the city. This year there were three times more applicants than in 2019, which highlights the boys' leadership qualities and academic potential in being selected.
Notices
Student Representative Council (SRC) meeting
The second SRC meeting was held last Friday, led by the Prefects. The focus was on establishing their meeting rules and protocols. It is great to see all SRC Advisory members embracing the opportunity to demonstrate leadership potential and have a voice concerning matters of school improvement.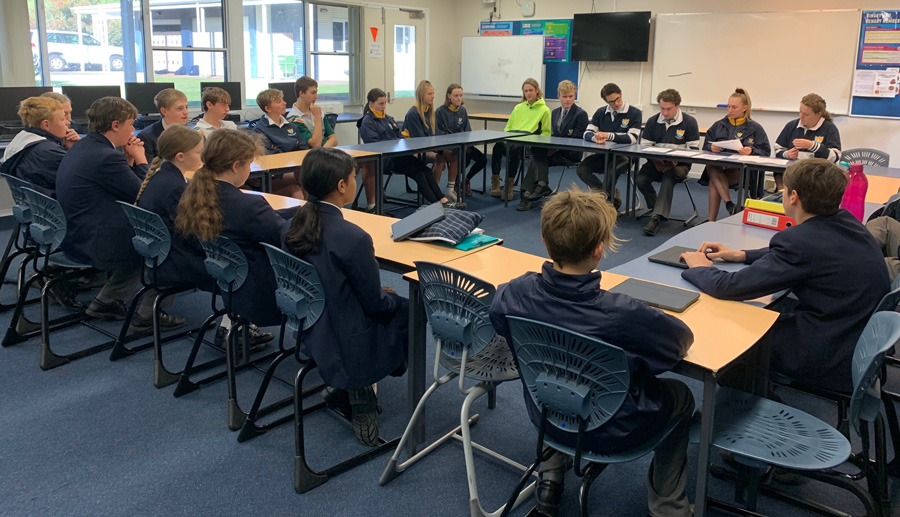 Year 11 and 12 WACE Review meetings
Now that semester one exams are completed an important review process is underway, which will involve analysing the data gleamed from the exams and coursework across the semester and having one on one interviews with each student in year 11 and 12. These tracking interviews are an important part of the school's monitoring of each student's progress towards achieving their Western Australian Certificate of Education (WACE).
Maths Pathway Parents Information Evening
We will be holding a Maths Pathway Parent Information Evening at the school on Wednesday 1st of July from 5.30-6.30pm. This will be a good opportunity for year 7-9 parents to learn more about the different components of the learning and teaching model. Due to the current COVID-19 restrictions it is essential that we have a clear idea of numbers, hence parents are kindly requested to RSVP to the school by Friday 26th June.
WA Child Safety Services Workshops
Below are upcoming FREE 'Parents only' workshops that the PCWA is offering the Goldfields Esperance community via zoom, facilitated by WA Child Safety Services:
For further information on the content of these sessions please view the school's Facebook page or email Mr Clark (iclark@eacs.wa.edu.au)
What's on this week (Week 9)
Wednesday Maths HELP Club 1515-1615
Thursday Chess Club 1515-1615
Friday Prefects meeting
What's on next week (Week 10)
Monday Year 10 Subject Selection Course briefings with Staff
Tuesday-Friday Executive Principal Mr Bartell in School
Tuesday Anglican Schools Commission CEO Rev'd Peter Laurence OAM visit
Wednesday Table Tennis Championship Final
Wednesday Maths Pathways Parents Information Evening (Years 7-9)
Thursday Advanced Standing luncheon for students
Friday Final day of term 2
Best wishes for the week ahead.

Jason Bartell
EXECUTIVE PRINCIPAL

Iain Clark
ASSOCIATE PRINCIPAL

Lisa Marquis
ASSISTANT PRINCIPAL