The 'ETA' Executive Team Address
TERM 3 WEEK 4 REFLECTIONS
Leadership Interview with Executive Principal Mr Bartell
Last week was the third Student Representative Council (SRC) meeting and the Prefects have certainly embraced their responsibility, being proactive in establishing the structure and parameters of the meetings and in creating a forum through the agenda that gives all SRC members a voice in the school. Last week,whilst Executive Principal Mr Bartell was in School, the Prefects felt it would be a valuable opportunity to interview Mr Bartell and gain his perspective on Leadership based on his educational experiences throughout his career. Below is a summary of the questions asked and the main points of Mr Bartell's response.
Q. What does Leadership mean to you?
A. Serving others – Servant leadership
Unlike many approaches to leadership, which offer suggestions on how top-level leaders can influence and motivate those further down the hierarchy, servant leadership puts its emphasis on collaboration, trust, empathy, and ethics. The leader should be a servant first, leading from a desire to better serve others and not to attain more power. The assumption is that if leaders focus on the needs and desires of followers, followers will reciprocate through increased teamwork, deeper engagement, and better performance.
Q. What strengths do you believe you have as a Leader? Any weaknesses?
A. Strengths - Collaboration, Trust in employees and Motivation A. Weakness - Excessive Connectivity
Q. What or who has been your greatest influence as a Leader?
A. Context is important in leadership so in that regard I would say three of my former Principals and mentors: John Latham, Matthew Hughes and Julian Dowse.
Leaders make others feel strong and confident. What do you do to help others feel this way?
A. EMPOWERMENT
Delegate to develop. ...
Set clear expectations. ...
Give constructive feedback. ...
Accept ideas and input. ...
Communicate the vision. ...
Recognize employees for hard work...
Q. Do you feel that it is important to delegate? If so, why? When is a good time to delegate?
A. Delegate to develop -Delegating to take drudge work off your plate is often short-sighted and misses an opportunity to strengthen and empower your team and individuals. Instead, I try to delegate with the intent to grow and develop the capabilities and responsibilities of the people I work with.
Q. What are three or four actions you believe are essential to enable others to be successful?
A. Encouragement and Resource the people you work with. Hard work, Commitment and Persistence.
Q. What advice do you have for building relationships and trust in an organisation?
A. Listen to each other, respect each other, have a vision, agree to a set of standards
Q. What values are most important to you in your leadership and why?
A. Honesty, Humility, Integrity (Moral Reason)
Notices
Anglicare 'WA Schools Sleepout' 2020
Last Friday 07 August EACS students and staff 'slept out' supporting the Anglicare 'WA Schools Sleepout' community fundraising initiative. Approximately $100,000 was raised by participating WA Schools and support networks with funds directly attributable to Anglicare 'WA's Street Connect' service - Perth's only mobile youth homelessness service - helping young people get their lives back on track. The EACS fundraising drive alone raised approx. $2,000 and as a school community we are grateful for all the support received.
The evening was a success with students each given a 'persona' or profile of a young person experiencing homelessness on the streets of Perth. They were then sent on a virtual research tour where they had to find out information to help their persona apply for personal documents, seek the assistance of Centrelink for support and obtain crisis accommodation for the night.
The evening was informative, slightly confronting, and an eye-opening insight into the issues that homeless youth face who are sleeping on the streets each night.
Congratulations and a big thank you to the following students and staff who were in attendance:
K. Baker, A. Burnside, L. Burnside, C. Crawford, J. Daw, B. Fiegert, Z. Fiegert, S. Garvey, L. Greatrex, M. Johnson, M. McGrinder, K. Morris, J. Nelson, E. Rossiter, M. Scott, I. Stone, R. Symonds, G. Viviers, C. Walter, C. Warner, T. Wynne, Mr Clark, Mrs Garvey, Miss Green, Mrs Shipp.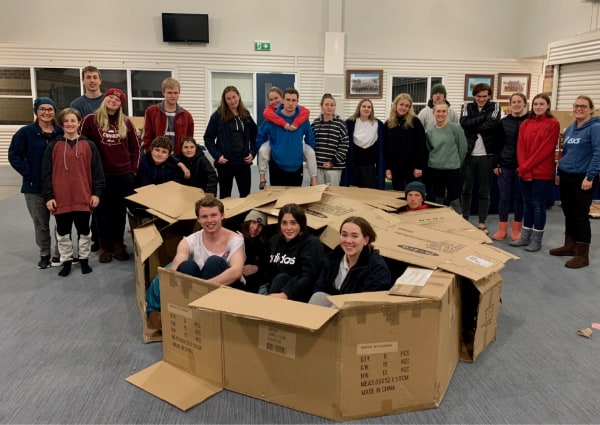 Group photo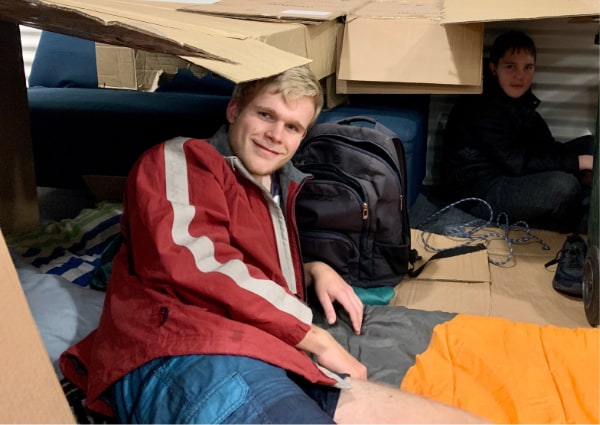 Sleeping out (L. Burnside and Campbell Warner)
Year 9 and 10 Parent Teacher Interviews
The date of this important calendar event is this Wednesday 12 August from 3.30 – 6.30pm. At this halfway point in the year and post receiving Semester 1 Reports and Statements of Achievement, this is a valuable opportunity for parents to attend with their children to speak with subject teachers about participation, progress and attainment. Appointments should be made online via the 'School Interviews' link, which families should have received.
Student Achievements
Congratulations this week to Robert West who recently competed at the 'Goldstar' Round 2 Go Karting Championships in Geraldton. As the photos below suggest Robert is a passionate enthusiast and a talented young athlete in his chosen sporting domain. Congratulations on your latest achievements Robert.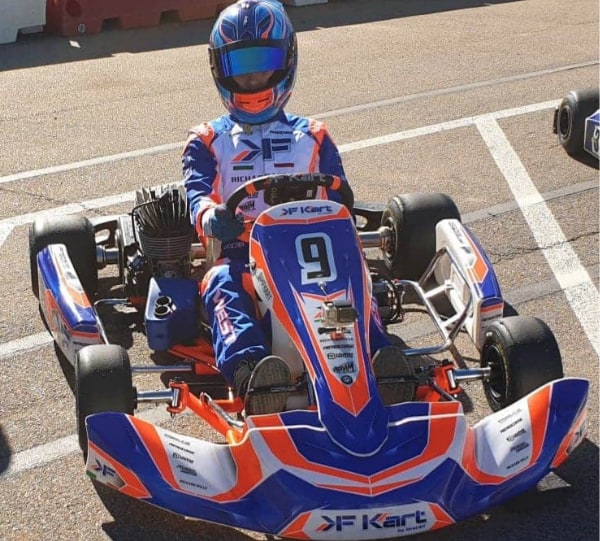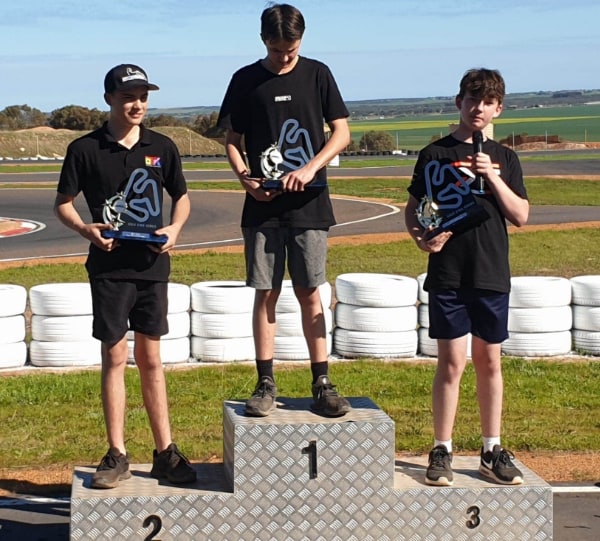 What's on this week (Week 3)
Monday Year 9 OLNA Pre-qualification (Writing)
Tuesday Year 9 OLNA Pre-qualification (Numeracy)
Wednesday Year 9 OLNA Pre-qualification (Reading)
Wednesday Year 9/10 Parent Teacher meetings (online bookings required)
Thursday Albany Inter-school Surfing (depart midday)
Friday Albany Inter-school Surfing (arrive evening)
What's coming up
19 August School Photographs day
20 August EACS Chess Championships 2020 (new online format)
21 August Specialist Netball and Tennis Scholarship testing
22 August Academic Scholarship testing
24 August Boarders long weekend

(Normal school day for all other students)

26-28 August Outdoor Education Camp (Canoeing at Stokes Inlet)
Best wishes for the week ahead.

Jason Bartell
EXECUTIVE PRINCIPAL

Iain Clark
ASSOCIATE PRINCIPAL

Lisa Marquis
ASSISTANT PRINCIPAL