The 'ETA' Executive Team Address
TERM 3 WEEK 6 REFLECTIONS
Pathways to Success
At EACS we are inherently aware of the changing nature of education and the diverse range of talents, needs and abilities of our students. Consequently, the programs of study available for students to purse in their senior secondary years must be as flexible as possible, offering both breadth and depth in meeting students' needs. These needs consist of studies leading to university entry as well as studies preparing students for entering the workforce, pursing trades and further education through the TAFE sector.
Year 10 have just made their subject selections for year 11, subjects which they intend to pursue
throughout years 11 and 12 in 2021. These selections reflect a solid candidature of students pursuing
diverse but equally rigorous and fulfilling studies in ATAR, VET and Big Picture. Programs of study
chosen by our students (both ATAR and General) include:
Big Picture, Biology, Chemistry, Children Family & Community, Computer Science, English, Food Science & Technology, Geography, Human Biology, Materials, Design & Technology, Mathematics, Modern History, Outdoor Education, Physical Education Studies, Psychology, Visual Arts.
But what defines the different senior secondary pathways?
The Australian Tertiary Admissions Rank (ATAR)
An ATAR pathway is the most direct route for entry into university. The ATAR is a unique system that
ranks every school leaver from zero to 99.95 who is looking for a place in tertiary education. This
ranking, which indicates a student's performance relative to their peers, is used to distinguish between students vying for entry into competitive tertiary courses.
The system is intensely competitive. It has a powerful, universal influence on parents, teachers, and young people navigating the transition from schooling to post-school life. The ATAR is often supported because it is fair. That is to say, everyone operates under the same handicap and it
measures something relevant to higher education study.
For students who strive for high academic learning, who can retain large quantities of information,
who can cope well with academic expectation and who perform well in a competitive test-driven
environment, an ATAR pathway is a rewarding study option to consider.
Vocational Education and Training (VET)
The alternative pathway route into university is now increasingly popular and students undertaking
vocational qualifications up to certificate IV level are positioning themselves favourably for acceptance into entry level university qualifications on the back of their vocational learning and industry experience earned through complementary study in endorsed programs such as Workplace Learning.
VET studies at EACS has gained a lot of momentum in recent years and students across years 10-12
are now sourcing a diverse range of qualifications from all round Australia where nominal hours
achieved, which are aligned with units of competency completed, earn students credit equivalence
towards their Western Australian Certificate of Education (WACE).
VET qualifications (Cert II, III, IV), both proposed and currently being undertaken by EACS students
include:
TAFE: Automotive, Building & Construction, Engineering, Information Digital Media & Technology, Preparation for Health and Nursing Studies, Salon Assistant.
Animal Studies, Business, Conservation and Land Management, Digital and Interactive Games, Education Support, Fitness, Game Design & Animation, Game Programming, Health Administration, Horsemanship, Preparation for Health and Nursing Studies, Record Keeping, Retail.
Big Picture
Big Picture is a design for learning that tackles education from a different angle placing the student's interests and passions at the centre of the learning cycle and focussing on 'real world learning' with community internships at the heart of the design's agenda. Big Picture captures years of achievements by creating a learner profile with the student ultimately putting together a portfolio of evidence of their learning culminating in a senior thesis of work pitched at level 5 on the Australia Core Skills Framework (ACSF) which is deemed university entrance standard.
A learner profile is a way to provide a rich and detailed summary of what a student has learned, which is both flexible but enables comparison between students. Using evidence from the learner's time in school, it showcases a student's strengths, passions, patterns of capability and attainments.
A central idea of a learner profile is the accumulation of 'warranted micro-credentials', or small chunks of learning that are guaranteed by an authority who shows that the holder has actually demonstrated the relevant qualities or attainments. A micro-credential might recognise an achievement in a school certificate or vocational subject, or a recognised community service or an award in computer programming earned in out-of-school activities. Because they accumulate over time, they add up to a full representation of the attainments, passion and purposes of a person. Sandra Milligan, University of Melbourne, (2019)
Big Picture Education Australia is doing some good work around how the disciplines of learning,
together with the General Capabilities of Numeracy, Information and communication technology (ICT)
capability, Critical and creative thinking, Personal and social capability, Ethical
understanding, Intercultural understanding and Micro-credentials all align to reflect student
achievement so as to capture their breadth and depth of learning throughout their years of schooling.
Notices
EACS Chess Championships 2020
An exciting new online format was trialled for this year's EACS Chess Championships, which was held
last Thursday 20 August. 16 students across years 7-12 entered the event.
The format was aligned with the Suisse system where players were pitched against each other
depending on the strength of their results from previous games. This ensured that across the 7-game
format the top-rated players all played each other, which helped to differentiate the final standings.
For some the time-pressured games took a little bit of getting used to, and certainly elevated stress levels, but ultimately the new format created a huge amount of interest and enjoyment for all
involved.
Each player had a starting 6 minutes on their clock in which to make all their moves, but were then
able to gain 3 seconds of time back after making each move. At times the play was fast and furious,
with fast play sometimes being rewarded with games being won on time, but more often than not
working against players, with blunders detrimentally affecting the outcome of the game.
Congratulations to all students on their participation and positive manner in which the games were
played. Special commendation to the following students who finished in the top 6 and will now
represent EACS against ESHS at this year's annual Chess Congress to be held early in Term 4.
1st Ashton Burnside
2nd /3rd Bailey Fiegert & Winston Towell
4th Tony Nguyen
5th Regan Mott
6th Ashton Davies
Reserves: Ashton Rennie and Micah Wallace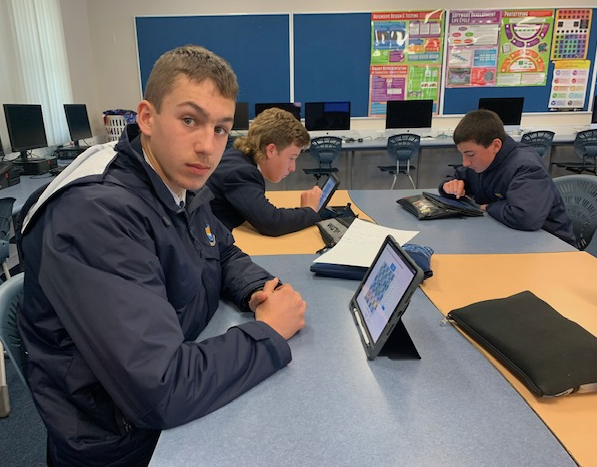 "All calm on the western front"
B. Fiegert, A. Rennie and R. Mott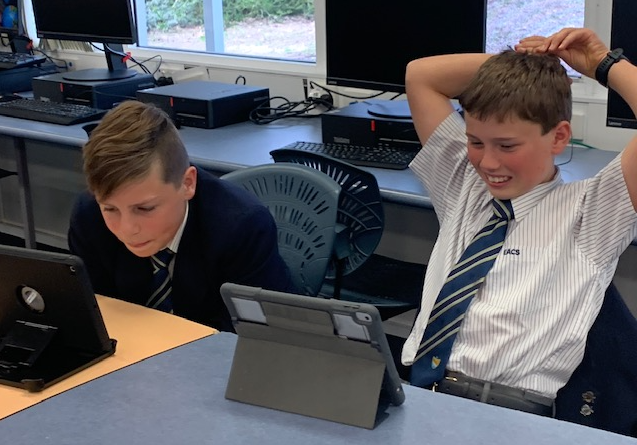 "Tension reaching fever pitch"
O. Creedon, A. Davies
Whole School Photograph
Due to inclement weather the whole school photograph was postponed last week. The rescheduling
of this event will take place this Thursday 27 August. Uniform is formal winter uniform, which includes
tights for girls and blazers for all students.
Padlocks on lockers
Students have recently been instructed to obtain a padlock for their personal locker at school. Please assist your child in obtaining a padlock (combination preferred) at your earliest opportunity.
Literacy and Numeracy Support
A reminder that English and Mathematics HELP Club is available to all students across all years each
week. English Help Club runs on a Monday afternoon and Maths Help Club runs on a Wednesday
afternoon. Whether the assistance is of a generic nature (i.e. homework) or something more specific,
students are encouraged to make the most of this opportunity to consolidate learning opportunities.
Student Achievements
Mathematics growth
One of the key indicators of success in learning is notion of personal 'growth'. In Mathematics this
year students have been working hard on growing their learning. Congratulations to the following
students who have maintained a fantastic growth rate over the course of Term 2 in Maths Pathways:
Kate Smith, Madeleine Fox, Olivia Petersen, Kate McCrea, Mya deGrussa, Bailey Fiegert, Harry Lapworth, Regan Mott, Sam Matthews, Darcy South, Astiana Beardsmore, Ashton Davies, Iluka Drayton, Sarah Locke
What's on this week (Week 6)
Monday Boarders long weekend

(Normal school day for all other students)

Tuesday Education Perfect Science World Championships concludes
Wednesday Outdoor Education Camp (Canoeing at Stokes Inlet)
Thursday Outdoor Education Camp (Canoeing at Stokes Inlet)
Friday Outdoor Education Camp (Canoeing at Stokes Inlet)
Band Practice
Tuesday Junior Band 7.30am
Wednesday Senior Band 7.30am
Thursday Stage Band 7.30am
After-school activities
Monday English HELP Club 3.15-4.15pm (Editing skills focus)
Wednesday Maths HELP Club 3.15-4.15pm
Thursday Chess Club 3.15-4.15pm
What's coming up
31 August Round 2 Online Literacy and Numeracy Testing (OLNA) commences
01 September CEO of the ASC in School (Rev'd Peter Laurence OAM)
01-03 September Executive Principal in School
01-08 September Education Perfect Mathematics World Championships
03 September EACS Open Morning
07 September Year 7&8 Rotation 3 electives commence
22-24 September Executive Principal in School
22 September Inter-house Athletics Carnival

(date change)
Best wishes for the week ahead.

Jason Bartell
EXECUTIVE PRINCIPAL

Iain Clark
ASSOCIATE PRINCIPAL

Lisa Marquis
ASSOCIATE PRINCIPAL