The 'ETA' Executive Team Address
TERM 3 WEEK 10 REFLECTIONS
"Faster, Higher, Stronger"
"Citius"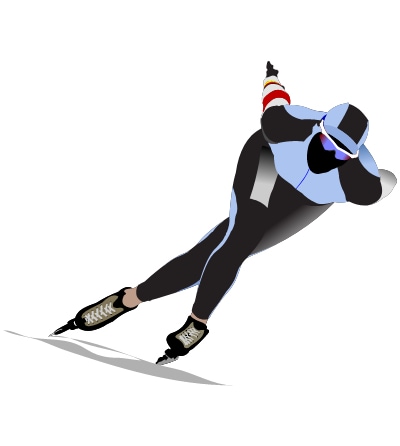 "Faster"
"Altius"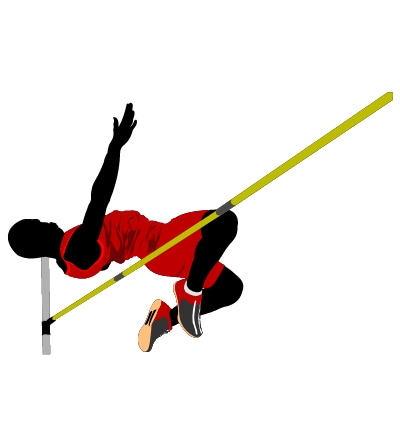 "Higher"
"Fortius"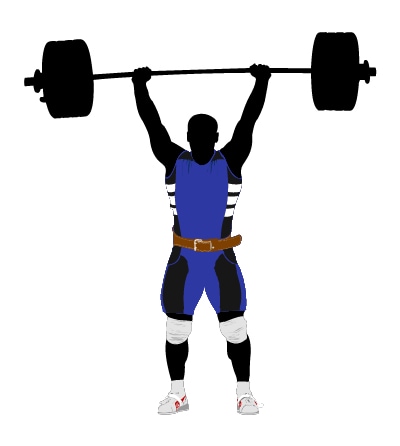 "Stronger"
The above inscription meaning "Faster, Higher, Stronger" is the Olympic motto, which was first introduced by Pierre de Coubertin and the International Olympic Committee in 1894. A more informal, but equally well-known motto, also introduced by Coubertin during the 1908 London Games is "The most important thing is not to win but to take part!"
The importance of these words is most appropriate this week as we edge closer to our annual Inter-house Athletics Carnival set down for Tuesday 22 September, commencing at 9.00am on the upper oval. Students have been practising hard during PE lessons, honing their skills in preparation for the big day and the stage is almost set!
At EACS the emphasis has always been on whole school participation and this is an important point of reflection because it goes to the essence of who we are and what we stand for as a school (i.e. our school culture), which is one based on inclusivity and a healthy respect for individual differences.
Ultimately, and despite the healthy competition that pits student against student and House against House, it comes down to the positive attitude that students demonstrate through their participation to be part of a school community event that creates enjoyment, builds confidence and by nature is collectively unifying.
Please make a note of the additional arrangements detailed below.
2020 EACS ATHLETICS CARNIVAL
A copy of the Program of Events is included below.
In the event of inclement weather, a decision to postpone will be made on the morning of the event. A decision will be left with the front office from 8:00am. Should there be a need to postpone a normal school day will come into effect.
The school is still following hygiene and social distancing requirements as per Covid-19 regulations. Therefore, it is important that on arrival all visitors sign in at the front office. Hand sanitiser is available in the front office and at the recording tent on the oval if required.
Parking is available in the school visitor parking area. All available parking closest to the main entrance MUST remain available for buses between the times of 8:30-9:00 am and 2:30- 3:00pm. Please DO NOT park in these bays during these times.
Please do not park along the laneway on the way up to the oval, as this must remain clear for the Ambulance or staff transporting equipment at all times.
All parents and spectators are warmly welcome to attend.
There will be chairs available for spectators at the recording tent for your comfort and patronage if required.
Please limit the need to go into the student tents to see your children as they have been encouraged to remain in their House Bays for spirit and to support their Students may arrive ready in their sports uniform and then remain in sports uniform for the duration of the day.
Students are advised to bring a sports bag containing enough snacks, lunch and hydrating fluids to see them through the day.
Students are strongly encouraged to be 'sunsmart' at all times.
All students are strongly encouraged to participate in as many individual and team events as possible.
All lunch orders through the canteen must be submitted no later than Monday afternoon 21st September (i.e. the day before). Students should be sure to include their name and house on their order.
Year 11's will be holding a sausage sizzle fundraiser at lunchtime on the oval so if your child would like to purchase a sausage and a drink, they are reminded to bring money on the day.
Age Championship medals and the overall Champion House shield will be presented at the Presentation Ceremony. Presentations are scheduled for 2.30pm.
If you have any questions or concerns, please don't hesitate to contact Blair and Alysha Castelli at school.
Program of Events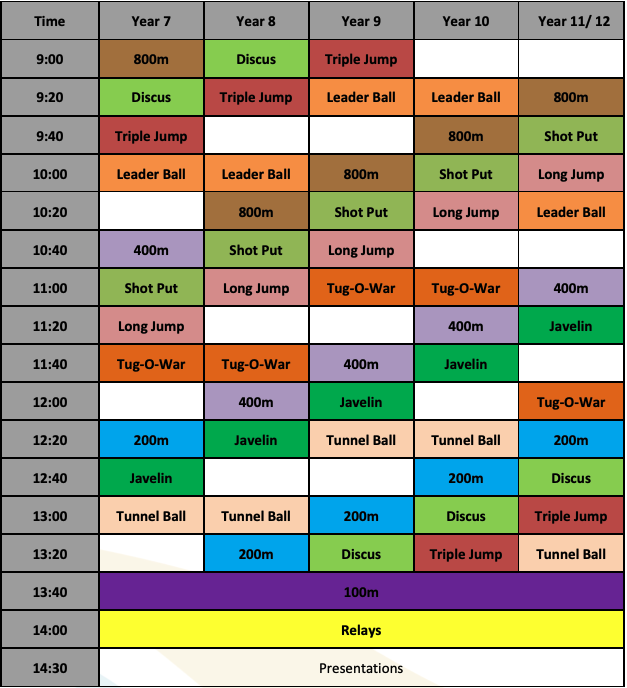 Student Achievements: Year 9-12 High Jump Final (Friday)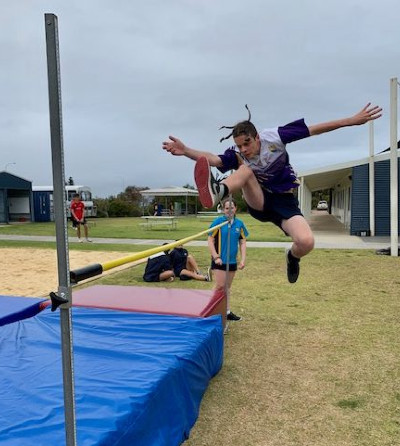 Micah Wallace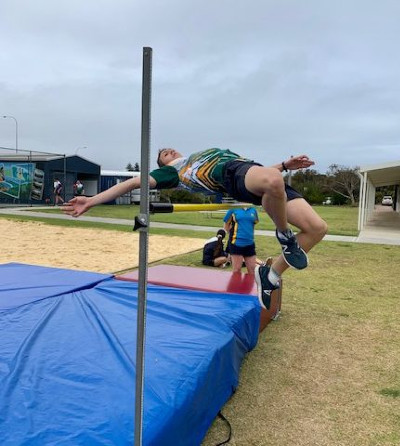 Bailey Fiegert (Champion)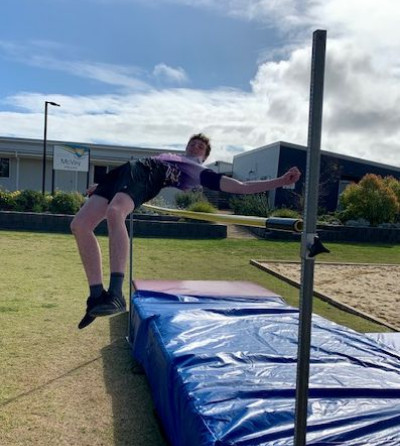 Joshua Holberton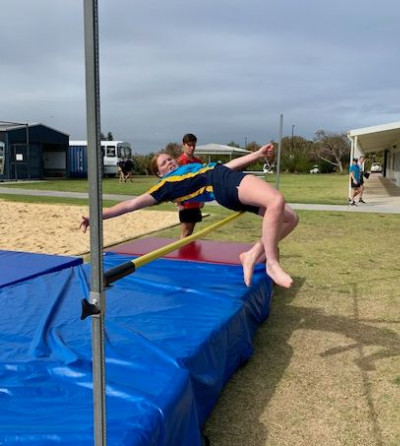 Shelby Daw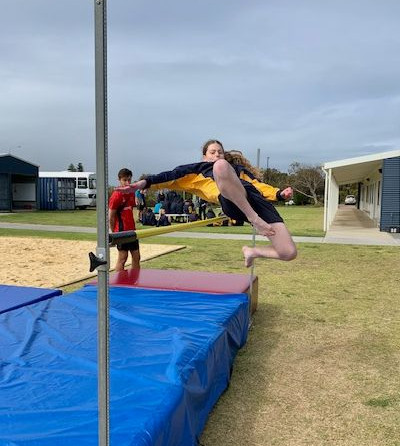 Olivia Petersen (Champion)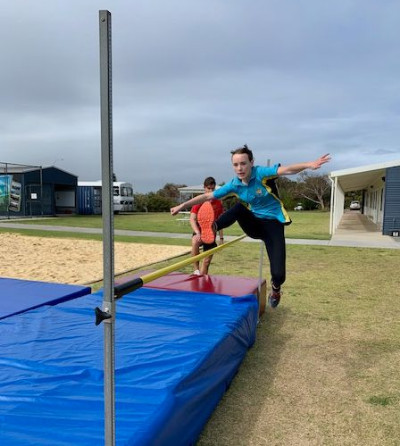 Anna Tobin
Notices
"eSafetyparents"
In light of recent issues associated with Social Media, it is timely to remind parents of the website designed to support parents, students and teachers with eSafety.
https://www.esafety.gov.au/parents
Tips for parents to help limit young people's exposure to harmful content online:
Engage in your child's online activities – ask what apps, sites and games they're using and make sure they're age-appropriate
Use parental controls on devices to help limit what your child is exposed to
Help them report and block upsetting content they see on social media sites or
apps Let them know they can come to you about anything upsetting they see online.
What's on this week (Week 10)
Tuesday Inter-house Athletics Carnival
Tuesday Executive Principal in School
Wednesday Executive Principal in School
Friday Last day of Term 3
Further Ahead
26 Sept – 12 Oct School holidays
5-9 October Year 12 ATAR Mock Exams (Anglican Parish Church)
13 October School resumes (all students)
Best wishes for the week ahead and for a safe and rewarding holiday.

Jason Bartell
EXECUTIVE PRINCIPAL

Iain Clark
ASSOCIATE PRINCIPAL

Lisa Marquis
ASSISTANT PRINCIPAL