The 'ETA' Executive Team Address
TERM 3 WEEK 8 REFLECTIONS
Sharing good practice: The positive effect of engaging school partnerships
Jo Earp in an article for Teacher Magazine entitled ' 'Sharing good practice: Gonski and school partnerships(25 May 2018) cites The Gonski Report"Through Growth to Achievement: Report of the Review to Achieve Educational Excellence in Australian Schools", which proposes a set of impactful and practical reforms that build on existing improvement efforts.
Citing the Gonski review panel comments Earp notes that establishing strategic and sustainable school-community partnerships targeting identified needs can enhance student learning and wellbeing:
"Effective school-community engagement unlocks a world of applied learning and development opportunities for students."
Recommendation 8 of The Gonski Report highlights the need to:
"Strengthen school-community engagement to enrich student learning through the establishment of mechanisms to facilitate quality partnerships, including engagement in mentoring, volunteering and extra-curricular activities, between schools, employers, members of the community, community organisations and tertiary institutions."
The benefits of a strong sense of community engagement include:
School-community partnerships can improve student outcomes and meet individual learning needs by making use of rich learning and personal development opportunities
that exist within the community.
School-community partnerships can have a positive impact in other areas, such as student attendance and future participation in employment and training.
School-community partnerships are a great way to introduce additional positive role models and create strong links with members of the wider school community by inviting them to share their knowledge and experience
School-community partnerships support an adaptive education model by enabling students to learn what is happening outside the school gates; to apply the knowledge and skills acquired at school in a range of contexts outside the classroom; and to prepare students for the needs of a rapidly changing workforce by exposing them to work-related knowledge and skills that the curriculum does not cover.
When talking about effective school-community partnerships, the application for EACS students are higher levels of participation in engagement programs and extra-curricular activities, involving:
school-industry collaborations
youth mentoring programs
volunteer opportunities; and
provision of extra-curricular activities.
At EACS we aim to 'get at' this important work by offering a breadth of educational opportunities that supports and encourages students to take their learning and 'make it real' out in the community. This is done through Big Picture Internships, community service opportunities and various other school and community-based initiatives in which our staff and students are involved.
There are undoubtedly challenges in developing quality programs to meet student needs, and COVID-19 has certainly been a recent challenge that has been quite inhibiting from a school and community engagement perspective. But as time passes and life returns to a semblance of normal it is great to see our year 9-12 students re-engaging with their passions and pursuits outside of the school environment with a lens on their learning and future career aspirations.
Building strong school and community networks, forging suitable partnerships that are sustainable over time and overcoming the problems of scarcity of resources remain key objectives for EACS as we strive for school improvement into the future.
Student Achievements
Olympic Changemaker Award
The Olympic movement aims to build a better world through sport. The Australian Olympic Change-Maker program recognises students who are helping do that in communities across Australia, by demonstrating the Olympic spirit through leadership and driving positive change in their school or local communities.
Gerri Gaebler and Maddilyn McGrinder both demonstrate the Olympic Spirit and have submitted their nomination for this Award:
All of Year 11 will participate in a Virtual Olympic Changemaker Forum on 17 September. 25 lucky students will also be selected to attend a National Summit in December.
Aussie of the Month – August
The Aussie of the Month award has been operating successfully at EACS since 2008. The award recognises personal endeavour, achievement and contribution to the community, reflecting the values we share as Australians:
Top Performing Student results:
The Aussie of the Month award has been operating successfully at EACS since 2008. The award recognises personal endeavour, achievement and contribution to the community, reflecting the values we share as Australians:
A sense of fair play
Generosity of spirit
Commitment to community participation
A real concern for the environment and others
It is with great pleasure that we can announce the latest award winners for the month of August:
Ashton Davies
Ashton has worked extremely hard this month. He has shown great commitment to the Education Perfect Science World Championships, finishing first in the school and receiving a Silver Certificate from Education Perfect. Ashton has also shown this dedication to his Maths Pathways modules and Education Perfect tasks for Italian with great dedication. His enthusiasm for making the most of his opportunities has streamed into his Tennis Specialist classes and Advisory. Well done on making the most of your opportunities Ashton.
James Powell
James has demonstrated a strong work ethic towards Science and Maths. He placed 3rd in the school and was awarded a Silver certificate in the Education Perfect Science World Championships as well as demonstrating exceptional growth in his Maths Pathways Modules. James is readily seen around the school with a smile on his face and always uses his manners. He continually strives for his personal best. Well done James.
Harry Dowsett
Harry is making the most of the opportunities made available to him at EACS. He has shown consistent application and effort in English. He engages in class discussions offering thoughtful and relevant responses. Harry has demonstrated 200% growth in his Maths Pathways modules and has received excellent results in his recent Science test. Well done Harry, your hard work is being rewarded.
Codee Walter
Codee has demonstrated exceptional responsibility and dedication towards her learning. She has shown a great sense of community and empathy, by attending and fundraising for the Anglicare Schools Sleepout. She makes the most of the opportunities that are available to her, continually improving and challenging herself. Well done.
Maddilyn McGrinder
Maddilyn is to be commended on her excellent submission for the Olympic Change-Maker nomination. Her entry was well considered and truly demonstrates her suitability for the nomination. Maddilyn is to be highly commended on her outstanding achievement in the most recent Geography assessment task. A result that is a testament to her hard work and dedication. Well done and keep up the awesome attitude.
Imogen Stone
Imogen epitomises what it is to be a student at EACS. She readily volunteers to help others and embraces a positive attitude towards all aspects of her schooling. She has demonstrated a great sense of community spirit and empathy in supporting the Anglicare Schools Sleepout. Imogen is also to be commended on her recent performance in a Sequence investigation. Well done Imogen
Notices
Band Performances
Congratulations to Mrs Saunders and our musicians who put on a couple of performances last week. Photo 1 are Year 7 students performing after only 13 weeks of tuition during their elective music classes. Photo 2 is the School Band performing for year 7-9 students during assembly.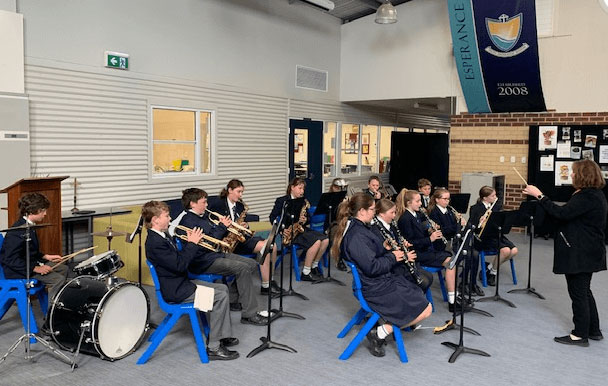 Photo 1: Year 7 elective music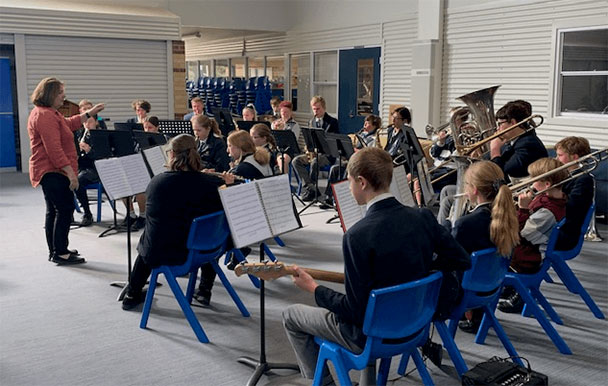 Photo 2: School Band
Band Practice
Tuesday Junior Band 7.30am
Wednesday Senior Band 7.30am
Thursday Stage Band 7.30am
After-school activities
Monday English HELP Club 3.15-4.15pm (Prefixes/Suffixes skills focus)
Wednesday Maths HELP Club 3.15-4.15pm
Thursday Chess Club 3.15-4.15pm
What's on this week (Week 8)
Monday Year 7&8 Rotation 3 electives commence
Wednesday Education Perfect Maths World Championships concludes
Thursday Student Representative Council meeting
Further ahead
22-24 September Executive Principal in School
22 September Inter-house Athletics Carnival
25 September Last day of Term 3
26 Sept – 12 Oct School holidays
5-9 October Year 12 ATAR Mock Exams (Anglican Parish Church)
13 October School resumes (all students)
Best wishes for the week ahead.

Jason Bartell
EXECUTIVE PRINCIPAL

Iain Clark
ASSOCIATE PRINCIPAL

Lisa Marquis
ASSISTANT PRINCIPAL