The 'ETA' Executive Team Address
Biblical Thought for the Week
"Don't do anything from selfish ambition or from a cheap desire to boast, but be humble towards one another, always considering others ahead of yourself."
Philippians 2:3 (c) GNB
Application: People can sense the true motivation behind any action. Don't dirty your reputation by taking short cuts or with cheap tricks.
TERM 4 WEEK 2 REFLECTIONS
Lessons from Geese – part IV
FACT: The geese flying in formation 'honk' to encourage those up front to keep up their speed.
LESSON: When working in groups, we need to be supportive and encourage our team members. In groups where there is encouragement the production is much greater.
EACS APPLICATION:From a pastoral perspective, students support and encourage one another through their understanding of the FISH Philosophy and by colloquially 'Living the Fish'! The FISH Philosophy is explained by four simple principles or practices for better academic and social participation and engagement.
Be There is all about giving our full attention to a task or individual. To 'Be There' means to be at school or in the workplace in mind, body and spirit; to be completely focused on your work and sympathetic towards the learning needs of others. 'Being There' implies being engaged in one's learning and ensuring that all other members of the school community feel valued and respected.
Choose Your Attitude is all about choosing the right attitude each and every day. The philosophy advises to 'choose' to be positive and friendly and that this good feeling will spread to others. Choosing to be a positive, friendly and a productive member of the school community is an important aspect of building positive relationships at EACS.
Make Their Day is all about taking an interest in somebody else other than yourself. Recognise and take advantage of the opportunities where you might be able to make a difference in someone else's life. This might mean lending a supportive ear or simply making the effort to cheer someone up if they're having a 'down' day. Make eye contact and make someone else feel special by making him or her the main focus of your attention.
Play recognises that maintaining a healthy work/play balance is valuable. It is all about having fun and making others feel as though they can have fun while they're there too. Being able to enjoy one's time at school is important, but not at the expense of others. Inclusivity is the key. Play must be appropriate, timely and positively motivated.
From a teaching and learning perspective, Teachers support and encourage students by not thrusting them in the deep end to sink or swim but by applying a 'Gradual Release of Responsibility' to help students learn at a rate that is appropriate for them. This teaching pedagogy works as follows: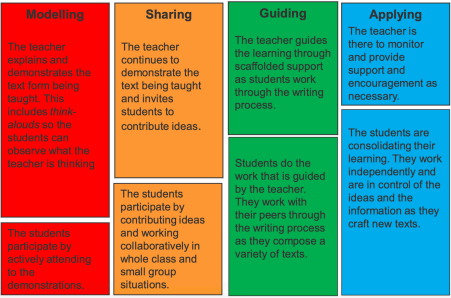 Student Achievements
Aussie of the Month
The Aussie of the Month award has been operating successfully in WA for over ten years. The award recognises personal endeavour, achievement and contribution to the community, reflecting the values we share as Australians:
A sense of fair play
Generosity of spirit
Commitment to community participation
A concern for the environment and others
Congratulations to the following students who are our latest award recipients:
Mia Holberton continues to strive for her personal best. She works conscientiously to plan and create her work as well as focussing on her organisational skills. Mia has an excellent commitment to her learning and should be congratulated on a successful year to date. Well done, Mia.
Toby Jones is an extremely focussed student that is reaping the benefits of his dedication to his studies, including excellent achievement in the Education Perfect Maths World Championships receiving a Silver award. He is a thoughtful and engaging student and his commitment to his learning is to be commended.
Grace Buttle is to be congratulated on her recent academic results, achieving high results in both her HASS test and personal learning growth in Math Pathways. Grace is making responsible choices and demonstrating a great work ethic. Keep up the fantastic effort Grace.
Madison Maitland continually strives to achieve her personal best. She has a strong work ethic that has resulted in fantastic results in all her learning areas. Madison has particularly demonstrated excellent results in her latest Science and HASS tests. Well done Madison. Keep up the great work.
Macey Podmore is a bright and cheerful student that has shown great consistency and motivation in maintaining her academic achievements. She readily participates in class discussions and is helpful towards other students. Macey continually strives to achieve her personal best and should be congratulated on an excellent year to date. Well done, Macey.
Mia Johnson has demonstrated maturity beyond her years. Her presentation and commitment to supporting other teenagers that are at risk of depression has proven her courage and leadership skills. Mia has come such a long way since joining EACS. We wish her well in her future and know that she will go far. Well done, Mia.
Maths pathways success
One of the key indicators of success in learning is growth. In Mathematics this year students have been working hard on growing in their learning. Congratulations to the following students who have maintained a fantastic growth rate over the course of Term 3!
Benjumen Kloeden, Ileesha Hathurusinghe, Coen Fels, Ashton Davies, Sarah Locke, James Powell, Darcy South, Fletcher Williams, Madeleine Fox, Ella Goddard, Mya deGrussa, Harry Dowsett, Kellen South, Connor Maloney, Alec Watkins.
Notices
Year 12 final week in school
It is with both happiness and sadness that this is officially the final week when our Year 12 students will be required to be in school. They have been a great bunch, who have overwhelmingly worked hard and supported one another throughout their school journey. There will be more to say later in the year but suffice to say, for now, we all join together as a school community in wishing our Year 12s well and we know that they'll make their final week in school a positive, fun and memorable one with dress up themes earmarked for each day:
Monday 'Dynamic Duos'
Tuesday 'Childhood TV Shows'
Wednesday 'Anything but Clothes'
Thursday 'Op Shop Prom'
Friday 'Circus – including final breakfast and 'Colour Run'
What's on this week (Week 2)
Monday Chapel (Years 10-12)
Tuesday Executive Principal in School
Thursday EACS Inter-school Chess Congress
Friday Year 12 Final day in School
Further ahead
02-13 November Year 12 ATAR WACE Exams
09-13 November Year 11 Outdoor Education Camp
09-13 November Year 11 Exams
10 November Year 7 Immunisations
11 November Remembrance Day service
16 November Boarders long weekend (boarders only)
16-18 November Executive Principal in School
20 November New Student Transition Day 2021
23-27 November Year 7-10 Exams
29 Nov – 05 Dec St Georges Camp TBC (Perth)
30 Nov – 01 Dec Executive Principal in School
30 November Year 12 Graduation Dinner
01 December Musical Soiree (note date change)
07 December Inter-school Athletics, Albany TBC
08 December Executive Principal in School
08 December Celebration and Awards Evening
09 December Advanced Standing reward activity
10 December Last day of the year for students – Activities day TBC 15
December Semester Two Reports released
Best wishes for the week ahead.

Jason Bartell
EXECUTIVE PRINCIPAL

Iain Clark
ASSOCIATE PRINCIPAL

Lisa Marquis
ASSOCIATE PRINCIPAL