The 'ETA' Executive Team Address
Biblical Thought for the Week
"But the Spirit produces love, joy, peace, patience, kindness, goodness, faithfulness, humility, and self-control. There is no law against such things as these." Galations 5:22-23 (c) GNB
Life application: What a wonderful world it would be, if we could all exhibit such "Fruits" as these. Certainly, something for us to strive for!
On This Day in History
Australian History
1923
Australia's first public wireless broadcast begins.
1955
The Cocos (Keeling) Islands are transferred to Australian control.
1961
Sturt's Desert pea is adopted as the floral emblem of South Australia.
2009
Lucky, the world's oldest sheep on record, dies.
World History
1963
TV series 'Doctor Who' first airs on BBC television.
1996
125 people die as a hijacked airliner runs out of fuel and crashes into the sea.
TERM 4 WEEK 7 REFLECTIONS
The next two week's reflective pieces have a focus on the contributions from the Associate Principals and the Executive Principal in this year's Yearbook, which will be available for viewing and purchase in coming weeks. This week – the Associate Principals.
"Life is like a box of chocolates – you never know what you're going to get"
This famous quote from the 1994 movie 'Forest Gump' has certainly had reverberations when reflecting on the year of 2020, which I'm sure, for many, will be a year to forget.
Just as with the box of chocolates where the hidden flavour isn't revealed until the first bite into the centre, so to with life – sometimes you just never know what you're going to get from one day to the next
COVID-19 came as a shock to us all, especially considering how quickly the virus spread and how destructive it ended up being on so many levels of contemplation. Each of us would not need to reflect for too long before we could all lay claim to having been impacted upon in some way shape or form.
Whether it be loss of earnings or livelihood, restrictions in place preventing free movement to see friends and loved ones, the death of elderly citizens, economic uncertainly affecting peoples savings and financial security, mental health and wellbeing issues or educational loss through school closures necessitating remote learning and cancelled events, the impacts have reverberated throughout the community.
These unprecedented times have required individuals and families to dig deep as they have grappled with changing personal, social and economic circumstances, which have been largely out of our sphere of influence and control. Tough times have certainly reigned supreme!
But unlike the box of chocolates where you can take a bite and discard the flavours that don't appeal, real life poses a much tougher proposition. A proposition that we cannot discard or ignore because we don't like the cards that we're dealt. Whether we like it or not the reality of life is this - just as much as we deserve a little bit of luck and good fortune, so to it then goes without saying that we perhaps deserve a little bit of bad luck and misfortune along the way as well!
It is how we deal with the trials and tribulations of life that is the important thing. Our ability to embrace and make the most of the good times whilst demonstrating resilience, compassion and understanding during the bad is the key. Keeping life in perspective is so important in navigating a longer-term pathway to success, happiness and contentment. Despite the headways brought about by COVID-19 it has still been a year of optimism and growth for EACS. Commencing the year with 170 student we are on track to finishing the year with just shy of 200 students and anticipated enrolments of 230 to commence 2021. This is an encouraging sign of faith from the Esperance community to witness 18% growth in student numbers in a year when many families have been feeling the pinch in so many aspects of life.
The fee reduction was certainly an important factor in helping families make decisions around the best school for their child's education, based on choice rather than affordability. Our Remote Learning program was well received by the school community. And post returning to face-to-face teaching the educational opportunities extended to the students have continued to surge ahead.
The Sports Carnival held in the penultimate week of term 3 was a resounding endorsement of the breadth and quality holistic education being offered by Esperance Anglican Community School.
"Life is like a box of chocolates – you never know what you're going to get" And whilst there are no absolutes in life, one thing we can be sure about is the positivity in which our staff and students embrace the future and all that it holds and work together in partnership to make Esperance Anglican Community School a fine Anglican Independent school of which we can all feel invested and extremely proud.
Student Achievements
Student Leaders 2021
The process to select new Student Leaders for 2021 has now been finalised. Five talented young ladies put their nominations forward; which included a written application, two speeches in front of their peers during assembly and a rigorous interview process with the Executive. Throughout, each candidate displayed a strong sense of 'self' with an inner desire to serve the students and school community. This left the Executive with no other decision other than to endorse all five girls, as Prefects, onto the Students Leadership team for 2021.
The School Captain will be announced at the Celebration and Awards Ceremony on Tuesday 08 December.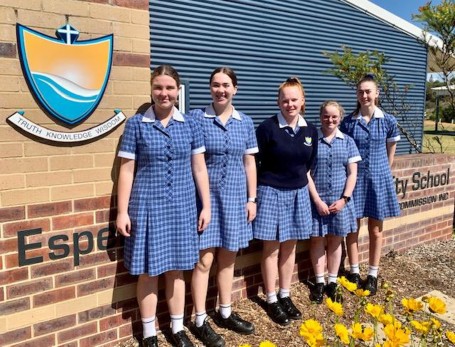 Jerri Gaelber, Maddie McGrinder, Sarah Curnow, Hannah Ietto, Kirsten McCrea
Tennis Community Service
Last Friday 11 EACS students gave up their time to help officiate down at Esperance Tennis Club during the Tennis West facilitated Esperance Primary Schools 'Red ball' Tennis Tournament. The day was a roaring success, in part due to the selfless efforts of our students, which were hugely appreciated by the Tennis West Organisers. Well done guys!
C. Fels,B. Kloeden, T. Treloar, W. Towell, S. Beckman, C. Lee-Steere, S. Davies, J. Muir, M. Miller, E. Clark, F. Williams
Australian Mathematics Competition
The Australian Mathematics Competition (AMC) has been held annually since 1978. One of the largest annual events on the Australian education calendar, the AMC was the first competition of its kind in Australia and is now one of the largest of its type in the world. More than 30 countries participate each year. It is an engaging 30-problem competition that demonstrates the importance and relevance of mathematics in students' everyday lives.
This year 61 students from EACS competed in the AMC with some excellent results. 20 proficiency awards, 20 credits awards and 1 distinction award were granted.
Credit awards went to:
Year 7: Thomas Hughes, Winston Towell
Year 8: Joel McGuire, Mitch Wandel, Mieka Watkins
Year 9: Bailey Fiegert, Kellen South, Alec Watkins, Regan Mott
Year 10: Madison Maitland, Izaak Wallace, Ashton Burnside, Finlay McKenzie, Lauren Ware, Grace, Davey, Montana Fisher, Kacie Goodman
Year 12: Luke Burnside, Rhys Symonds, Jett Nelson
Congratulations to Ashton Davies (Year 7) who was awarded the 'Best in School Award' for achieving a Distinction, placing Ashton in the top 20% of his cohort. Thanks to TV Financial for sponsoring our Best in School Award.
'Have Sum Fun' online
Have sum fun online (HSFOL) is conducted by the Mathematical Association of Western Australia (MAWA) and is endorsed by the Australian Association of Mathematics Teachers (AAMT). It is a maths quiz of NAPLAN-type problems for students in year-level teams of four students. HSFOL is designed to foster mathematical problem solving for students across Australia. The competition consists of three rounds of 10 questions, where student teams of four have one hour to complete each round of questions. This year EACS had teams compete in the Year 7 and Year 8 competitions. Congratulations to the following students for their efforts.
Year 7 Team: A. Davies, A. Beardsmore, I. Hathurusinghe, B. Simpson
Year 8 Team: T. Jones, J. Maguire, M. Wandel, M. Watkins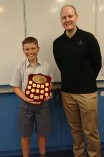 Year 8 HSFO Team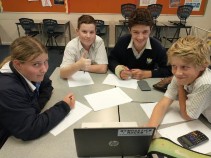 Ashton Davies AMC 'Best in School'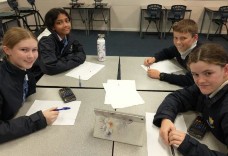 Year 7 HSFO Team
What's on this week (week 7)
| | |
| --- | --- |
| Wednesday | Defence Force Recruiting presentation (Years 9-11) in DMP |
| Sunday | St Georges Camp departs (Perth) |
Upcoming calendar events
| | |
| --- | --- |
| 29 Nov – 05 Dec | St Georges Camp (Perth) |
| 30 Nov – 01 Dec | Executive Principal in School |
| 30 Nov – 01 Dec | Inter-schools National Online Chess Finals |
| 30 November | Year 12 Graduation Dinner |
| 01 December | Musical Soiree |
| 06-07 December | Inter-school Athletics, Albany |
| 08 December | Executive Principal in School |
| 08 December | Celebration and Awards Evening |
Best wishes for the week ahead.

Jason Bartell
EXECUTIVE PRINCIPAL

Iain Clark
ASSOCIATE PRINCIPAL

Lisa Marquis
ASSOCIATE PRINCIPAL